Anker PowerCore 10000 With Quick Charge 3.0 | Review 2020
If you are looking for a powerful portable charger that is light and small enough to carry in your pocket, then Anker PowerCore 10000 with Quick Charge 3.0 is a solid option. In today's review, we will be focusing on the features this charger has to offer, and if it is the right product for […]
If you are looking for a powerful portable charger that is light and small enough to carry in your pocket, then Anker PowerCore 10000 with Quick Charge 3.0 is a solid option. In today's review, we will be focusing on the features this charger has to offer, and if it is the right product for you.
Anker PowerCore 10000 is a portable charger that features Quick Charge 3.0 on both input and output, and it can be used to charge your phone and other gadgets all day long.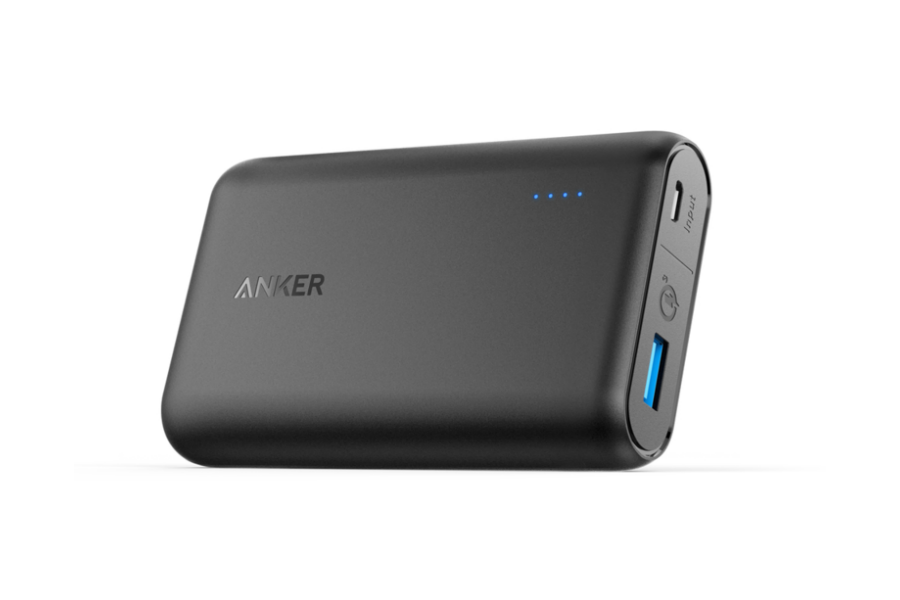 Anker's PowerCore 10000 QC 3.0 can be seen as an upgraded model of its other power bank versions. PowerCore 10000 Quick Charge 3.0 has in addition to power more flexibility, while still maintaining some of the features present in the other charges.
Some of the differences seen here include battery capacity, price, size, weight, and quick charging options that enable the charger to be used for various purposes. The power bank is compatible with all smartphones, including all the iPhone models, as well as the new Samsung phones.
Now that we have a brief introduction as to what the Anker PowerCore 10000 with Quick Charge 3.0 is, we will delve deeper into its performance and particular features.
What Are the Features of Anker PowerCore 10000 With Quick Charge 3.0?
PowerCore 10000 is a small charger that comes in a modern and compact style. And moreover, packing enough power to keep your phone from ever running out of battery.
It weighs a mere 6.6 ounces, or 188 grams, measuring approx. 92mm x 60mm x 22mm. The device is no bigger than a credit card and just as useful. While the earlier PowerCore 10000 model weighed 6.3 oz (180 gms), this charger is the only lightweight version of 10000 mAh.
What makes the PowerCore10000 stand out from competitors is its quick charge 3.0 feature that allows for speedy charging, enabling you to power up the device up to the percent of 80 in half an hour. It charges to full capacity in 4 to 7 hours via outputs of at least 2AMps. Chargers under 2 AMps will have slower charging times.
What Is the Charging Capacity of Anker PowerCore 10000?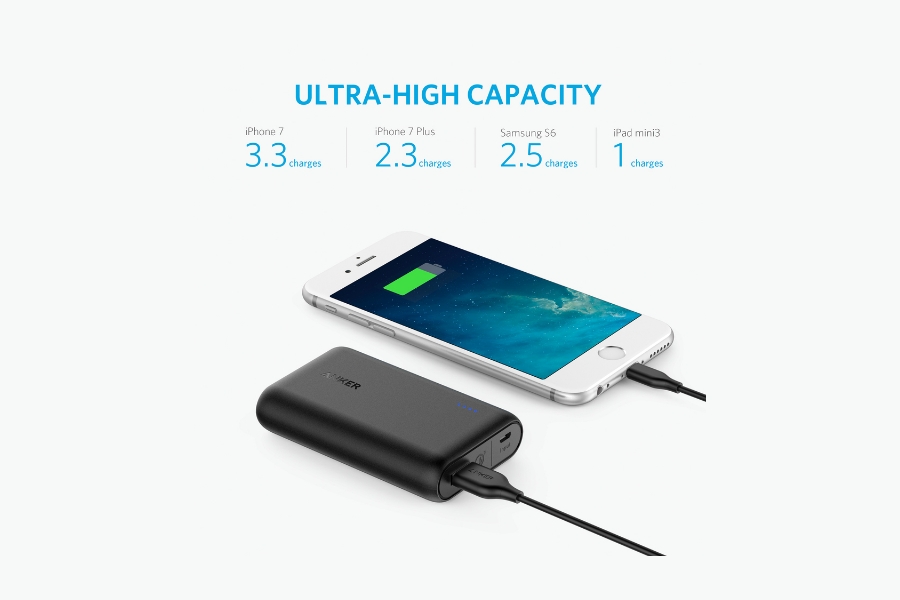 Having a battery capacity of 10000 mAh, Anker PowerCore 10000 with Quick Charge 3.0 supports four full charges for iPhones 8/7/6s and 2.5 charges for iPhone XR/XS/X, 8 Plus, and 7 Plus.
The power bank is also compatible with Android smartphones, including S10, S10+, S9, S8, S7, LG V30, and many others.
Anker PowerCore 10000 with Quick Charge 3.0 and Other PowerCore Models 
Anker has five power bank models that are in the range of 10000 mAh. They all provide safe and fast charging power and have only one USB charging port. Below we will be comparing their similarities and differences.
PowerCore 10000 is a lightweight charger, having only 6.3 oz (180 gm). It is also the model that has the lowest price, which makes it a good investment for those who want to spend the least amount of money on a good charger.
PowerCore II 10000 weighs 6.9 oz (195 gm) and features an 18-watt quick charging power that allows you to swiftly charge your device.
Anker PowerCore II Slim 10000 weighs 7.4 oz (210 gm) and is the slim version of the 18-watt quick charge power bank. It allows a 50% smartphone battery charge in just half an hour.
PowerCore+ 10050 is the heaviest of the group with 8.4 oz (240 gm). It is also an 18-watt power bank, but it has, in addition, Quick Charge 3.0, which enables fast charging of 3.0 phones, being able to charge a phone to 70% in 30 minutes. PowerCore+ 10050 can be fully charged in 3 to 4 hours via wall charger.
Anker PowerCore Speed 10000 QC features a 24-watt Quick Charge 3.0 output, with the input not having the quick charge feature. The power bank weighs 7 oz (198 gm).
Main Highlights of Anker PowerCore 10000 With Quick Charge 3.0
Pros of Anker PowerCore 10000
Features Quick Charge 3.0;
LightWeight;
10,000 mAh capacity;
Smallest option in the 10,000 mAh range.
Cons of Anker PowerCore 10000
Does not have pass-through charging.
Charging Performance, Speed, and Capacity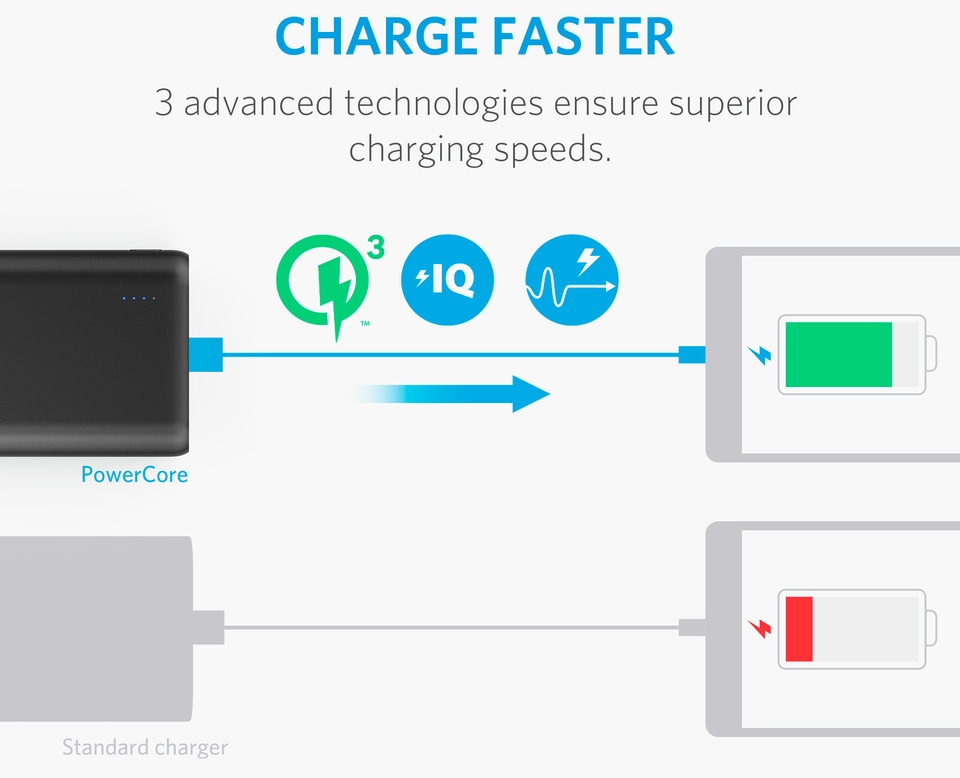 The Anker PowerCore 10000 enables fast charging. The Qualcomm Quick Charge 3.0 allows the power bank to offer lightning-fast charging times to QC3 compatible devices. With its impressive speed, you can charge your smartphone or tablet at least 4 times faster.
In just 30 minutes, any QC3 compatible phone can be charged to up to 80%. Due to its integration of PowerIQ and VoltageBoost technologies, the Anker 10000 mAh has the same charging speed, even for non QC3 compatible phones. These technologies allow the power bank to auto-adapt the charging voltage based on the device you have connected to.
The power bank also refills very quickly at 2A (10W). The only problem is the lack of pass-through charging, which means that you cannot charge the power bank and charge your phone simultaneously. Anker has stated that they have not added this feature because it would be damaging to the long-term use of the device.
Design and Quality
Straight away, you can notice the small footprint of the power bank. The PowerCore 10000 has the small dimensions of 92x60x22mm and has barely 188 grams. This makes it extremely convenient to carry around with you everywhere.
The Anker PowerCore 10000's exterior casing consists of durable plastic of an all-black matte texture. You do not have to worry about accidentally dropping your power bank on the floor. The Anker PowerCore 10000  was built using the highest quality products. Anker designed its charger to be as durable as possible.
The device features four LED lights on the top of the case, which indicate when your charge is low. The connectivity options are another major plus for the Anker PowerCore 10000. The power bank includes one USB (Qualcomm Quick Charge 3.0 compatible) and a Micro-USB slot on both sides.
Anker's PowerCore 10000 with quick charge 3.0 comes in two white colors and one black color.
Final Verdict
The Anker PowerCore 10000 with Quick Charge 3.0 is a compact, lightweight, and fast charging solution for your mobile devices. It is a perfect solution for those who want to buy a powerful portable charger.
Featured image: anker.com