Tiger vs Zojirushi Water Boiler Comparison | Main Differences and Similarities
Electric water boilers and warmers are necessary for the kitchen if you want to have a constant supply of hot water all day. In this article, we will analyze and compare two of the top water boilers in the market, Tiger water boiler and Zojirushi water boiler. These are both Japanese products and among the […]
Electric water boilers and warmers are necessary for the kitchen if you want to have a constant supply of hot water all day. In this article, we will analyze and compare two of the top water boilers in the market, Tiger water boiler and Zojirushi water boiler. These are both Japanese products and among the best quality, but we will examine their strengths and weaknesses more closely to see which is a better choice for you depending on your needs.
Tiger PDU-A40U-K Water Boiler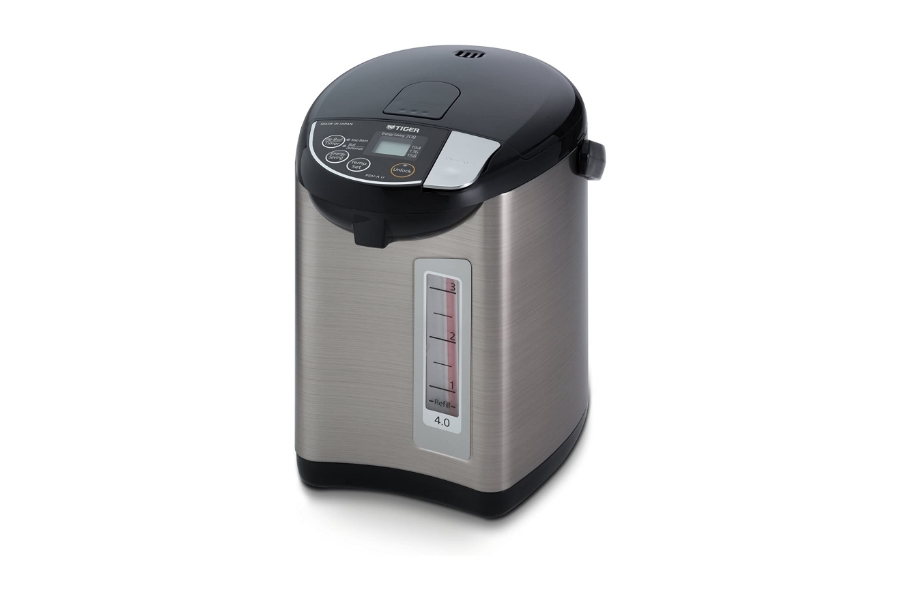 Tiger PDU-A40U-K is a 4-liter capacity water boiler and warmer. It has 4 temperature controls 208°F, 194°F, 176°F, and 158°F. This comes with a removable lid and cord for easy cleaning. Both the inside and outside are made of stainless steel, and it has a timer for boiling water. The boiler also serves as a warmer and dispenser, which keeps the water hot and fresh all day.
The design is spill proof and leak proof with an auto-lock function that ensures hot water doesn't dispense accidentally. There is also an auto shut-off function that automatically turns the boiler off at certain temperatures to prevent overheating. This boiler comes with a 6 or 9-hour energy saving as well as a reboil function that can quickly return the water temperature to boiling. The de-chlorination function makes sure that the boiled water is rid of chlorine and other odours.
Zojirushi CV-DCC40XT Water Boiler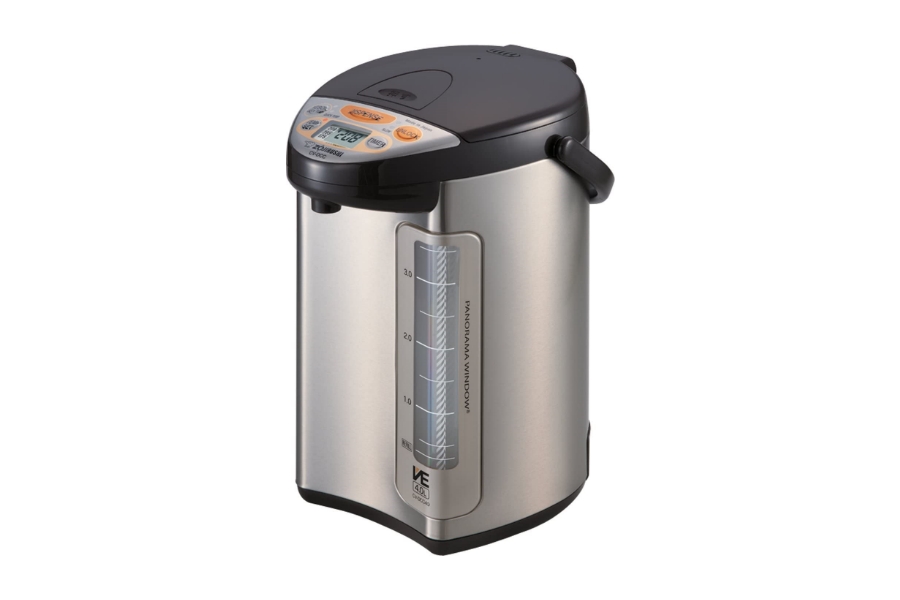 The Zojirushi CV-DCC40 XT is unarguably one of the best water boilers, just like Tiger. It comes with a 4-liter capacity and 4 temperature controls, Moreover, it has vacuum insulated (VE) technology, which makes it easier to boil water and keep warm for longer periods. The lid and cord of this boiler cannot be removed, so it has to be used with the cord attached. For water purification, this comes with dechlorination and a descaling function. You can clean it using Citric Acid solution. The reboil function quickly boils the water back to high temperature whenever the water starts getting cold.
Tiger vs Zojirushi: Main Similarities
Both products come in 3 options, 3.0-liter, 4.0-liter, and 5,0-liter. They also have 4 temperature controls for variable uses. The shut-off function is in the two products to prevent overheating, which is a good technology that a user should consider. There is energy saving available on the two products as well. The reboil function is also available on both to make sure you have hot water all day. Both of them are made of stainless steel, which is ant-corrosion and more durable than other materials.
Tiger vs Zojirushi: Main Differences
Apart from the fact that water boilers are made by two different companies, although both are in Japan, there are some notable differences. Firstly, while both boilers have 4 temperature settings, the Zojirushi model has the vacuum insulated (VE) technology, which Tiger lacks; this makes the former more efficient in terms of boiling and keeping the water warm. Secondly, the Tiger model has a removable lid and cord, giving it an edge over Zojirushi.
Tiger, however, does not support Cafe dripping, a function that Zojirushi has. The Zojirushi boiler is also armed with advanced technology, so there is a Quick Temp mode that allows for rapid water heating without having to first boil the water. This decreases the energy consumption of the boiler, which saves the cost of electricity tariffs.
So Which Boiler Is Better?
This is a tricky question to answer, as both Tiger and Zojirushi are excellent products. The choice of which product may depend on the purpose of the buyer. However, several factors must be placed into consideration before making such a decision. For instance, Zojirushi is significantly more expensive than Tiger. Your budget will, therefore, definitely play a role in this decision.
Another major thing to consider is what the boiler will be used for. You wouldn't want to spend a couple of hundred dollars extra to buy a boiler for a purpose that a much cheaper one can be used for. If you need the advanced technology that Zojirushi has, you may decide to spend extra to get it. However, if it is not a necessity, then Tiger will do just fine. Though Tiger is cheaper, it allows for easier cleaning with the removable lid and flexibility with a detachable cord.
If you fancy these features, then why spend money on Zojirushi that doesn't have it? It is worth noting that if you want to impress your friends by buying an expensive water boiler, then Zojirushi is for you. Otherwise, the cheaper Tiger is fine, as there is not that much difference between the two.
Conclusion
Are you looking for a good water boiler and are not sure about which of the Tiger PDU-A40U-K and Zojirushi CV-DCC40XT to buy? The two are both top products from Japan with very little difference, so if you want to save money and get an excellent product, go for the Tiger model. But if you have some extra money to spend and removing the lid to clean is not a priority for you, Zojirushi is there for you. Having said that, good luck with the decisions, and we hope you will enjoy your boiler to the fullest!