Top 10 Best Electric Spin Scrubbers of 2020
We are always looking for an efficient way of cleaning our houses. Gone are the days when you had to scrub for endless hours to get a clean floor or shiny tiles. There are many electric spin cleaners that make your work easier for you and with better results. We have prepared a list, which […]
We are always looking for an efficient way of cleaning our houses. Gone are the days when you had to scrub for endless hours to get a clean floor or shiny tiles. There are many electric spin cleaners that make your work easier for you and with better results. We have prepared a list, which will help you find the best electric spin scrubber for your house.
1. WiMiUS Spin Scrubber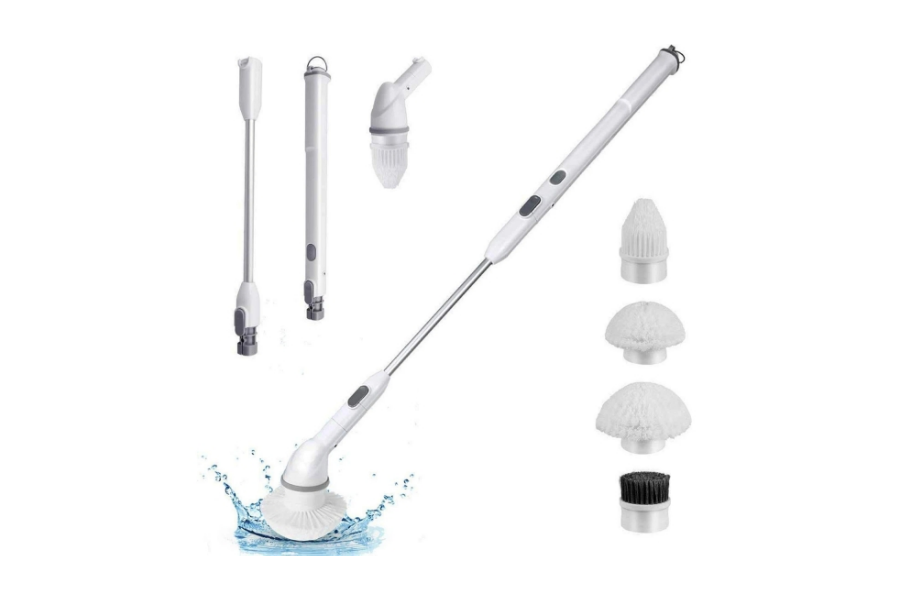 WiMiUS Electric Spin Scrubber allows you to clean various surfaces, as you can switch between four brush replacement heads depending on the surface you are cleaning.
Made out of stainless steel and high-quality plastic, the appliance is durable and can be used for a long time. It features an adjustable handle so that you do not have to bend down when cleaning. However, it is a bit shorter than expected.
The scrubber can be charged via USB cable and takes up to five hours to be fully charged. You can then use the appliance for 75 minutes when the battery is at full capacity. You do not have to worry about bacteria and mildew, as the scrubber's head is waterproof. It comes with a 12-month warranty from the manufacturer, and the brush heads can be bought separately.
 Pros of WiMiUS
It consits of quality materials that make it durable
The scrubber is easy to use and adjust
Four brush heads
Cons of WiMiUS
Head lacks flexibility
Rather a short handle
2. Homitt Electric Spin Scrubber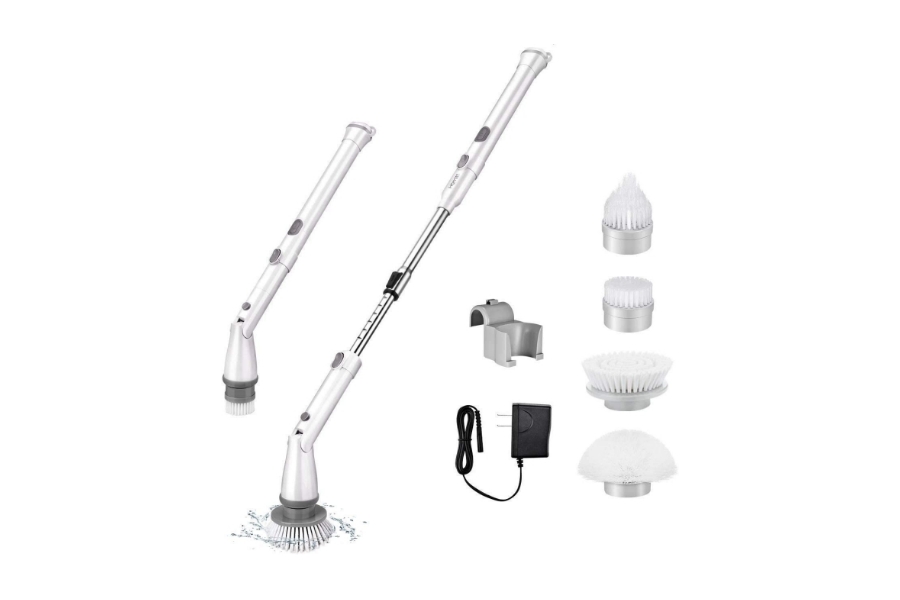 The Homitt is the best electric spin scrubber on the market. With four different brush heads and a rechargeable 3.65V 4300Mah Li-ion powerful battery, you will be able to use this appliance on various surfaces for many years.
As the unit is cordless, it can be taken from room to room without having to carry around extension cords. You can clean with the scrubber for around 60 min after 3-3.5 hours of full charge.
Its 21-inch long extension handle lets you get into all those nooks and crannies without straining your back. The stiff bristles of the brush attachment can get rid of the dirt and grime in just one go. The Homitt is also very powerful, having a high-torque spinning power of up to 600 RPM, but without being too noisy.
Pros of Homitt
Has extendable handle
Four different interchangeable brushes
Very powerful
Cons of Homitt
Still makes a bit of noise
3. Tilswall Electric Spin Scrubber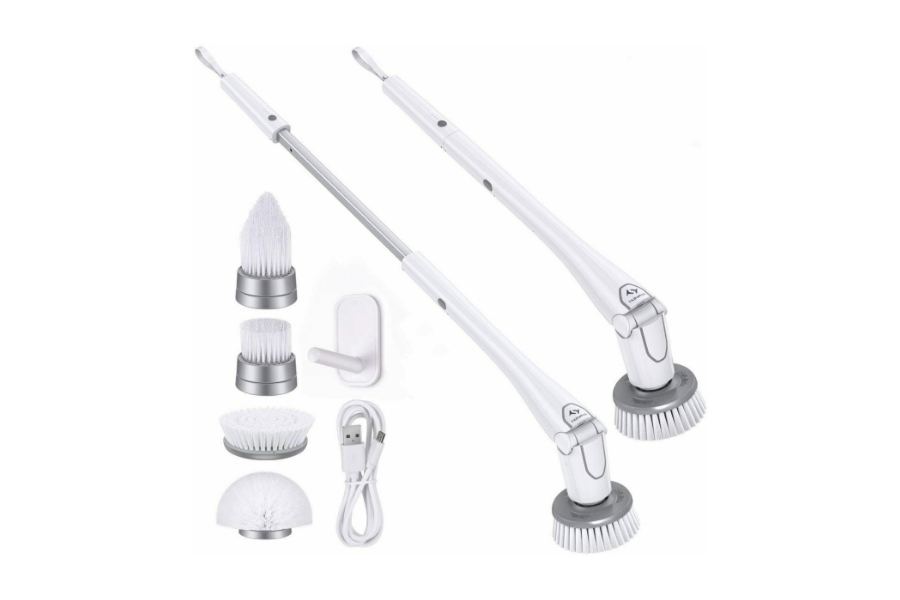 Tilswall comes with a 4,000mAh battery that ensures the unit can last for up to three hours on a full charge. There are four multi-purpose brush heads which can be used for different surfaces.
It comes with a LED indicator that shows the battery percentage and when it reaches 100% of charge. The electric scrubber is lightweight and can be easily carried around. The extendable brush head lets you reach difficult to access surfaces with ease. You can extend the head to a maximum of 43.3 inches, and the angle can also be set between zero and up to 80 degrees. This is the best electric spin scrubber for hard to reach places and surfaces.
The unit is rather quiet, going up to 70db. It is not too powerful, having a rotating speed of up to 300 RPM. But it can effectively remove most hard water stains, mold, and other types of stains.
Pros of Tilswall 
Light maneuverability
Extendable brush head
Long battery duration
Cons of Tilswall
4. MECO Electric Spin Scrubber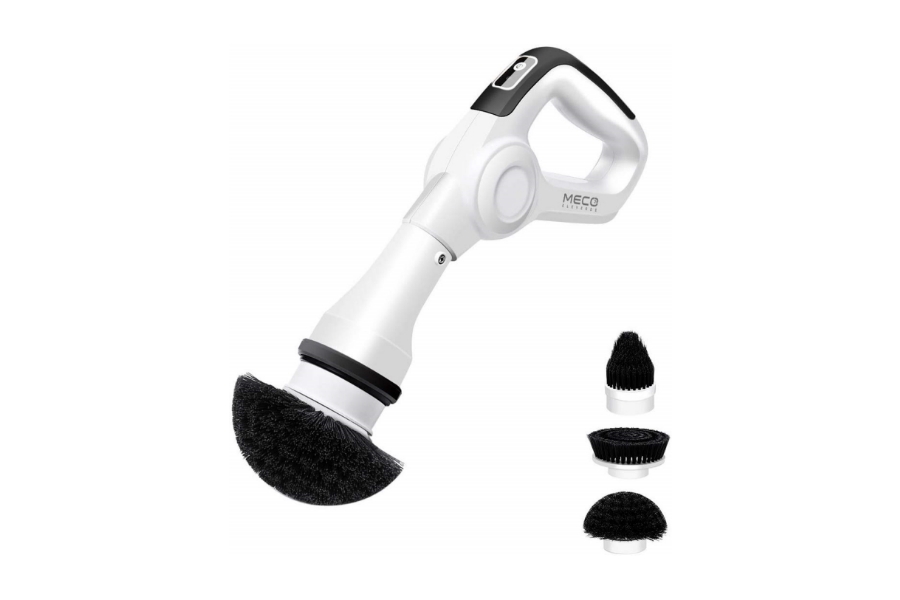 MECO is a powerful high-quality electric spin scrubber that can clean at 350RPM. It comes with a 2200mAh battery and has a runtime of 60 min when fully charged. The charging takes five hours.
While the handle is ergonomic, it is not handy to be used for long periods of time. You can switch between three replaceable brush heads of different shapes. The product has a high waterproof IPX6 rating.
This allows you to clean bathrooms, kitchens, and any other wet surfaces without having to worry about mold. The product comes with a 1-year warranty from the manufacturer.
 Pros of MECO
Decent speed
3 replaceable brush heads
High water resistance rating
 Cons of MECO
Not too comfortable for long time operations
5. FRUITEAM Electric Spin Scrubber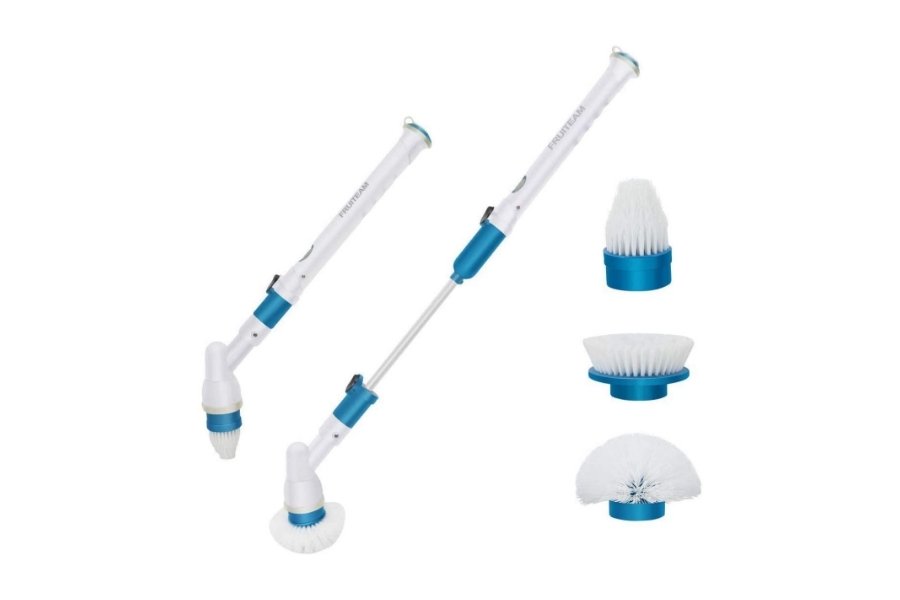 FRUITEAM comes with a great electric spin scrubber that gets the job done effectively and without tiring you out.
It features an extendable arm that makes reaching different places easier. The product is extremely waterproof, meaning you can even use it in the pool. Powered by a 2000Mah Li-ion rechargeable battery, it has a running time of a little over an hour, enough to get most of your cleaning done. Packing 340 RPM, it is powerful enough to do most jobs.
As the unit is lightweight, you can easily maneuver and use the product to clean without strain. You can utilize the three different brushes for diverse jobs. The flat brush can be used on tiles, walls, floors, the round one for irregular surfaces, and the pointed brush for corners and gaps.
Pros of FRUITEAM
Has a long handle
Powerful scrubber
Over an hour of battery runtime
 Cons of FRUITEAM
Works well on mostly flat surfaces
6. NOVETE Cordless Shower Bathroom Scrubber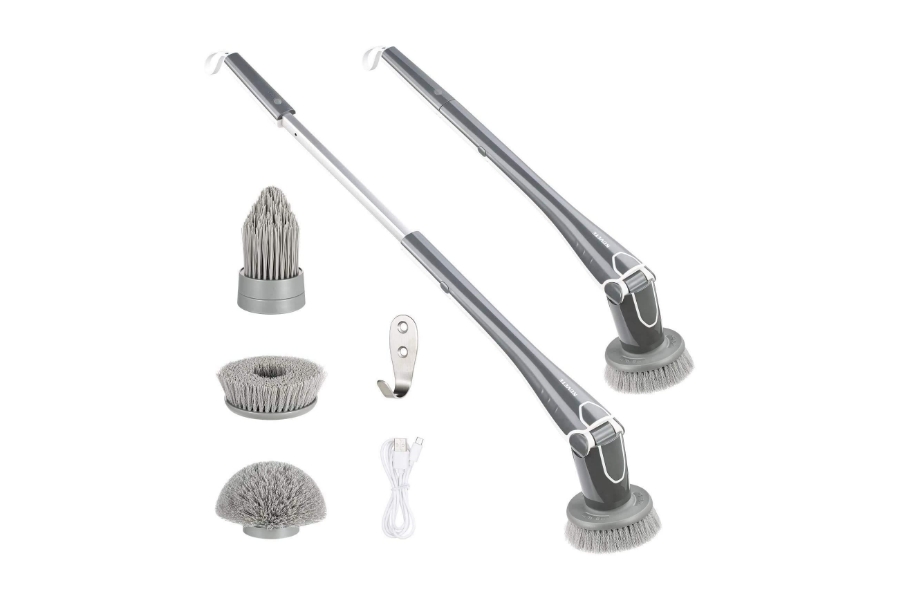 The NOVETE Cordless Shower Bathroom Scrubber is a convenient and fast cleaning appliance mainly for cleaning bathrooms, but it can also be used in other cases. The product features a powerful motor that spins up to 300 revolutions per minute that can handle most stains. It comes with three cleaning brush heads that can be adapted to your task. The extension arm shower adaptor lets you easily get to places without bending or squatting.
Once fully charged, you can use the product for up to 90 minutes, as the scrubber has a battery life with 20% more than most regular electric scrubbers on the market.
Pros of NOVETE Cordless Shower Bathroom Scrubber
Versatile on most surfaces
Made out of durable materials
Impressive runtime
Cons of NOVETE Cordless Shower Bathroom Scrubber
7. EVERTOP Spin Scrubber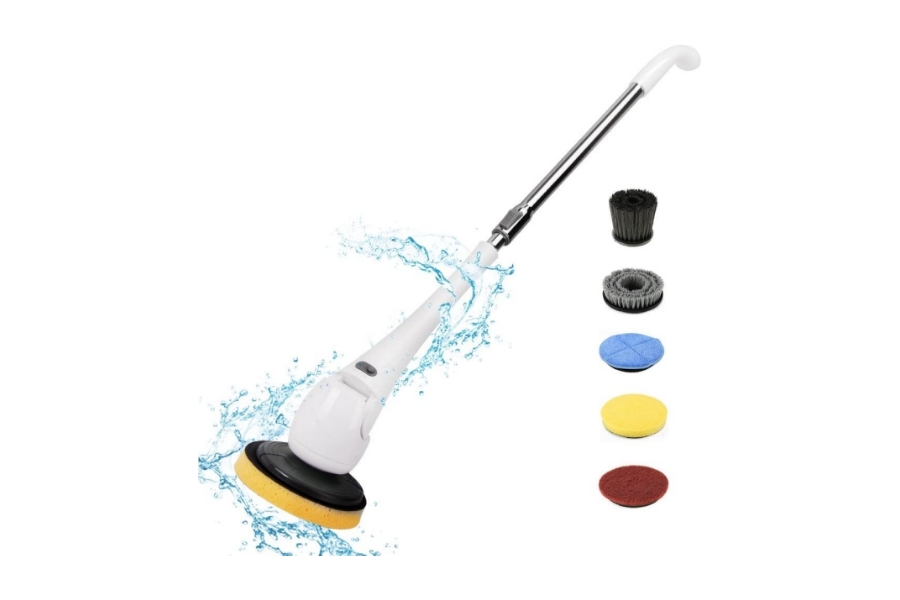 EVERTOP is the best electric spin scrubber for any household, as it has the longest runtime, high versatility, and it is easy to maneuver. With a runtime of 120 minutes, it beats a longshot most electric spin scrubber. But you do not have to worry about tiring out if you use it for too long, as it is ultra-lightweight at just 2.87 pounds.
It features 5 interchangeable brush heads that allow you to exercise different cleaning functions. Another great feature is its adjustable angle that provides great versatility when used on hardwood floors, bathroom, standard floors, and swimming pools.
Pros of EVERTOP Spin Scrubber
It is versatile and easy to use
Sturdy and durable
5 replacement heads
The battery lasts a very long time
Cons of EVERTOP Spin Scrubber
The handle could be longer
8. NPOLE Electric Spin Scrubber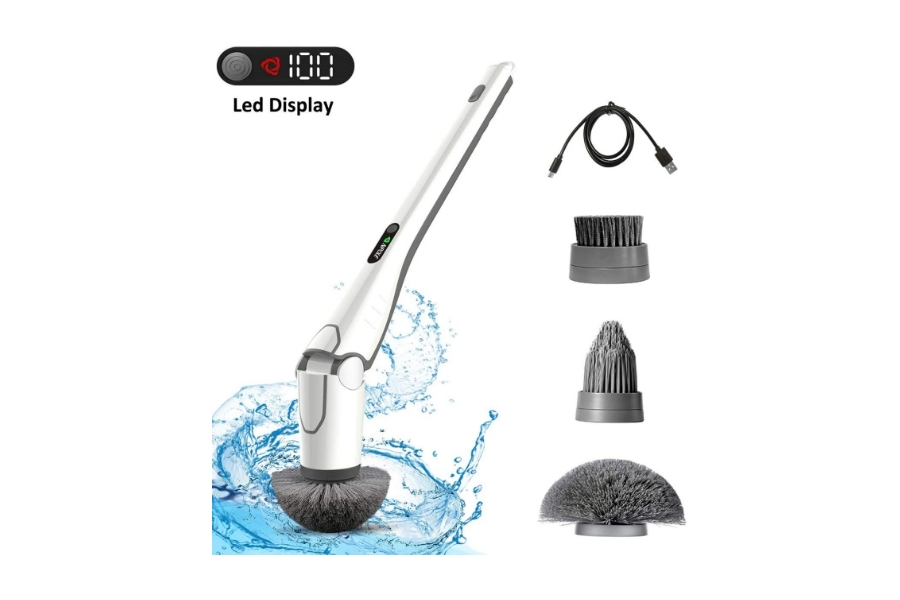 The NPOLE Electric Spin Scrubber is a product made out of durable material, and it saves you time with your cleaning by offering power and efficiency. While not the heaviest, you can carry it and operate with it quite easily, but not for an entire hour. You can extend the handle and adjust it to clean corners and inaccessible spots.
It has a 5-in-1 cleaning function due to its removable heads. You can see how much of your battery you have left on the LED display screen. The scrubber has a high torque motor that allows users to reach a decent speed of 280 RPMs.
Pros of NPOLE Electric Spin Scrubber
LED display screen
It has been rated to be very efficient
5 different heads
Cons of NPOLE Electric Spin Scrubber
9. Alldio Electric Spin Scrubber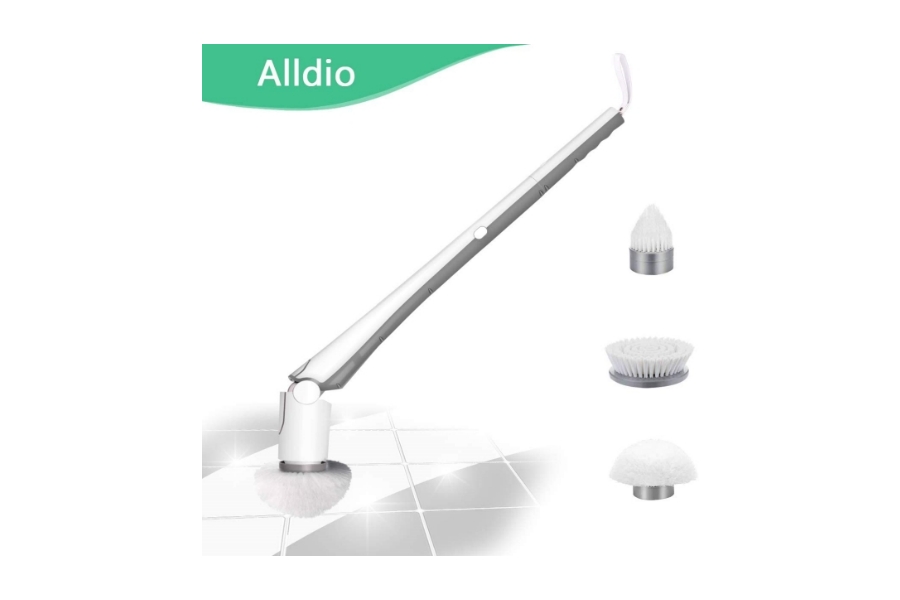 Alldio is the best electric spin scrubber for heavy-duty cleaning. It can last for up to 2 hours of nonstop scrubbing, and it consits of durable waterproof IPX7 materials. Weighing in at 2.87 pounds, it is extremely lightweight and easy to handle for a long time.
It comes with 5 interchangeable heads that allow you to clean everything from hardwood floors, windows, bathroom floors, to even bathtubs and sinks. The long extendable arm facilitates a comfortable position while cleaning.
Pros of Alldio Electric Spin Scrubber
The battery lasts 2 hours
Has a high waterproof rating
5 cleaner brushes
Cons of Alldio Electric Spin Scrubber
More expensive than the rest
10. GOOD PAPA Turbo Power Spin Scrubber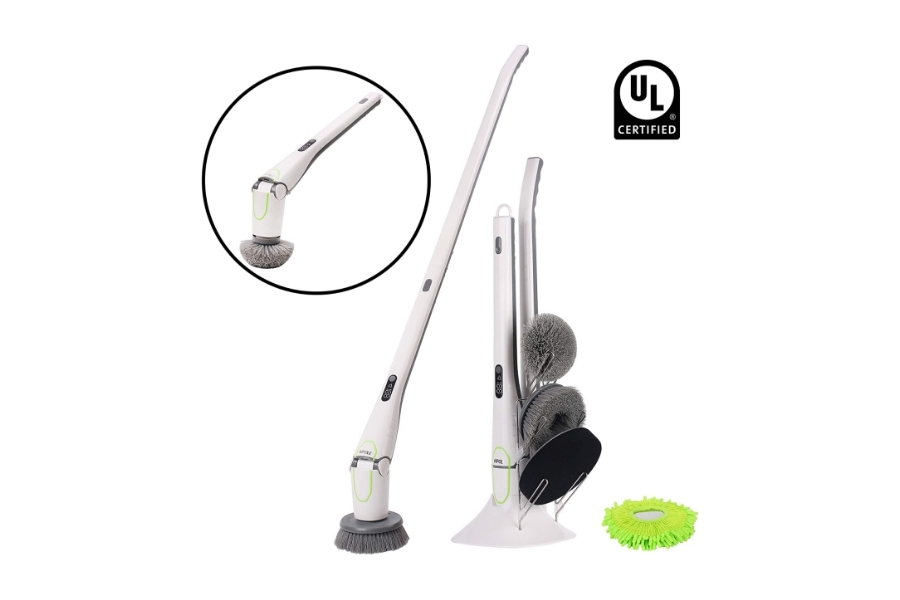 The GOOD PAPA turbo power spin scrubber is a versatile cleaning product that can be used on all kinds of floors and surfaces. The motor comes with a capacity of 84 Watts, which gives a speed of 240 revolutions per minute. But this electric spin scrubber can last up to one and a half hours, which is more than enough to get the cleaning done.
It also includes 4 different brush heads for diverse purposes, a stand, and a brush rack so that you can easily store the product. You can monitor battery life through its LED display and adjust its extendable arm to get to hard-to-reach spots.
Pros of GOOD PAPA Turbo Power Spin Scrubber
Lightweight
4 brush heads
Comes with a device stand and a brush rack
Cons of GOOD PAPA Turbo Power Spin Scrubber
 Conclusion
This has been our list featuring the best electric spin scrubbers that you can buy this 2020. With these options, you will surely have no issues finding the best electric spin scrubber for your cleaning needs.
Featured image: pjtrendz.com