Best Turntables Under $200 to Buy in 2020
Whether you have an old record that you want to play again or you're just into the retro trend, a turntable under $200 may be a great acquisition. Even if they are not in the high-end range, you will be surprised at how good some of them can sound. In this article, we will show […]
Whether you have an old record that you want to play again or you're just into the retro trend, a turntable under $200 may be a great acquisition. Even if they are not in the high-end range, you will be surprised at how good some of them can sound. In this article, we will show you which are the best turntables under $200 that are perfect for an entry-level purchase. 
1. Audio Technica AT-LP60BK-BT Turntable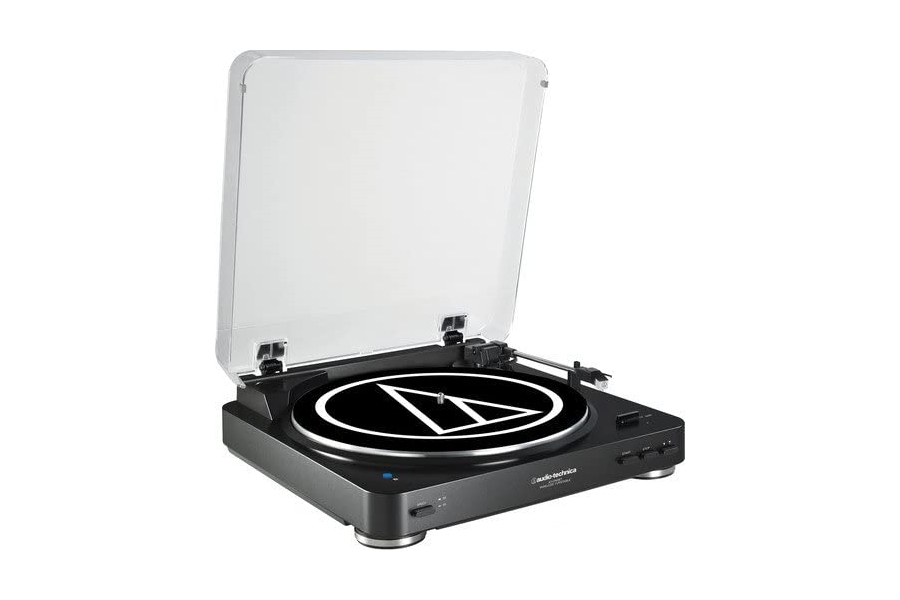 Audio Technica AT-LP60BK-BT is a great turntable for both new and old fans, as it supports single and album records while relaying a clear sound.
A great feature of this vinyl record player is its Bluetooth connectivity, which enables you to connect to wireless, and you can also connect to wired audio systems and speakers via the dual RCA output cable.
You can connect to up 8 different Bluetooth device profiles that are kept in the system's memory for easy access. The platter is constructed out of anti-resonance, die-cast aluminum, which limits vibrations.
The portable player includes an Integral Audio-Technica Dual Magnet phono cartridge that comes with a replaceable diamond stylus. While it has an inbuilt phono pre-amplifier, you can switch from phono to line whenever you want.
The manufacturer supports the delivery of spare parts for this product. This is the best turntable under $200 for budget shoppers, as it barely costs $150.
 Pros of Audio Technica AT-LP60BK-BT
Completely automatic
Inbuilt phono pre-amplifier
Easy assembly
Bluetooth and wire connectivity
Cons of Audio Technica AT-LP60BK-BT
Speed control issues
Included RCA cables are short
2. Audio Technica AT-LP60NV-BT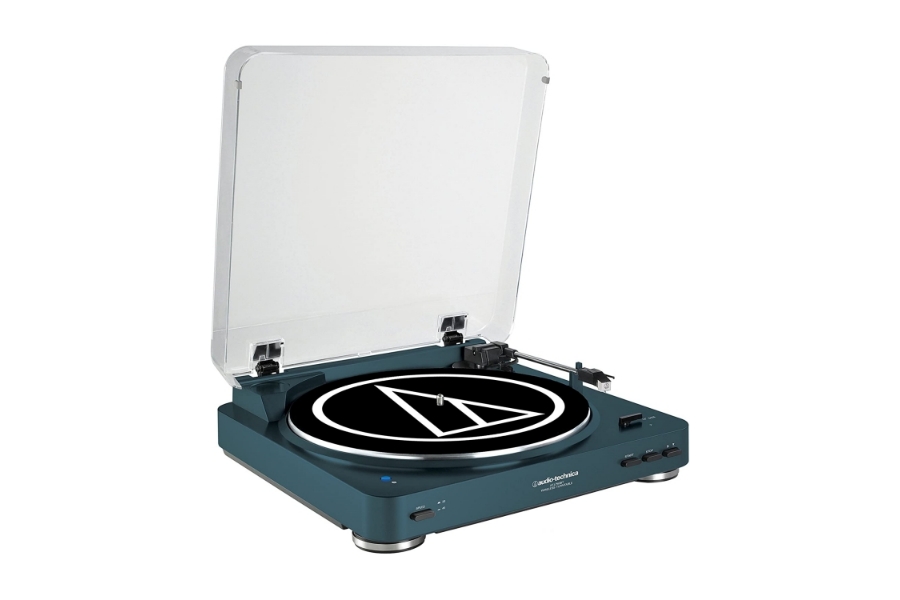 Another contender from Audio Technica is the LP60NV-BT. This turntable also features Bluetooth pairing to allow you to set up and listen to music in different rooms without any cables. Like other AT models, it can also be hooked up to 8 different pairs of speakers, headphones, or other listening devices that are Bluetooth enabled, and can be stored in the player's memory.
​The sound quality is pretty decent for this price range, and the player can support speeds of 33-1/3 RPM and 45 RPM. This aluminum-built player has a 36 dB nominal Phono Pre-Amp Gain and is RIAA equalized.
Pros of Audio Technica AT-LP60NV-BT
Nice design with good quality build
Bluetooth works very well
Sound reproduction is good at all levels
Cons of Audio Technica AT-LP60NV-BT
The pairing process is difficult
3. Crosley C100A-SI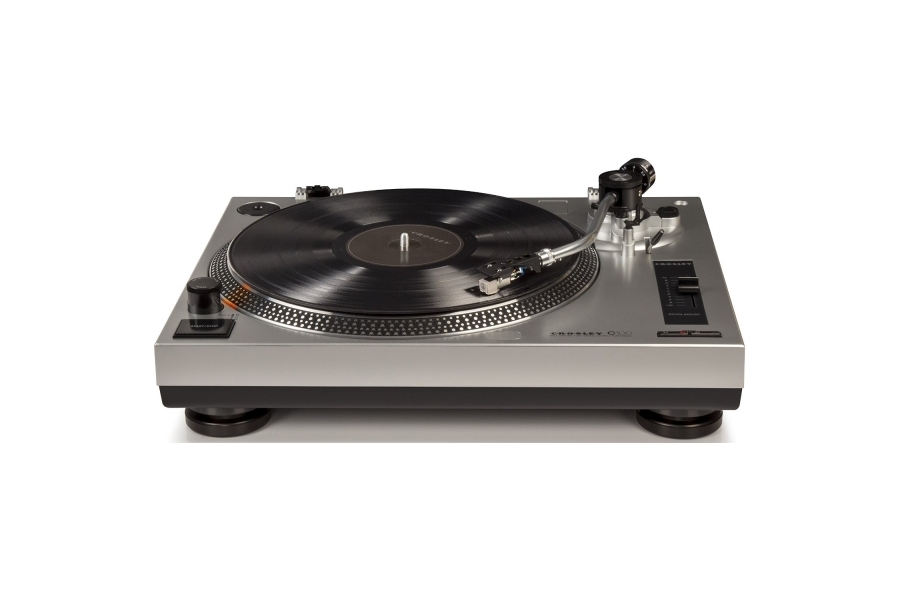 C100A is a good turntable for retro music lovers, as Crosley's design really embodies the era in which this type of player was popular. It supports speeds at both 45RPM and 33 1/3, meaning that you can listen to single or album records. It comes with an S-shaped adjustable tonearm, a replaceable NPS needle, dust covers, built-in phono pre-amp, adjustable strobe pitch controls, and a counterweight.
​Pros of Crosley C100A-SI
Nice vintage design
The s-shaped tonearm functions well
Affordable player
Cons of Crosley C100A-SI
Audio quality not as expected
Hard to connect to computers
4. Victrola Navigator VTA-600B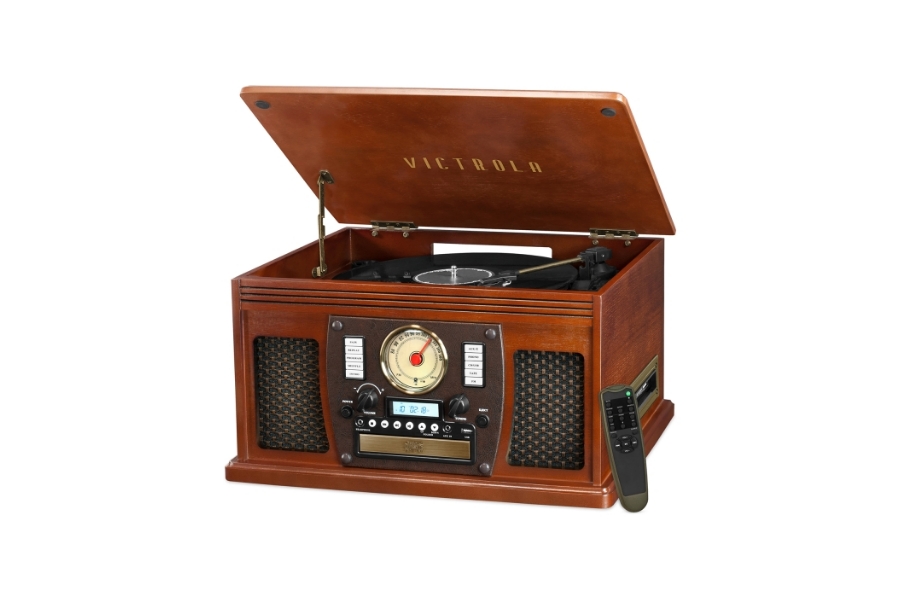 If you are looking for more than just a vinyl player, the Victrola has created an 8-in-1 record player which has a radio, CD, cassette player, and other options. The player also comes with inbuilt speakers.
This is the best turntable under $200 for people who want many features and the ability to play music from all types of formats.
It also features Bluetooth, as well as inputs for AUX cords and USB. You can play at all speeds (33 1/3, 45, 78 RPMs), meaning that you will be able to play all your records.
Pros of Victrola Navigator VTA-600B
Supports three different speeds
Features Bluetooth, USB player connectivity
In-built cassette player, AM/FM radio, CD player, speakers
AUX for connecting other devices
Headphone output and RCA output for other speakers
Has remote control
Cons of Victrola Navigator VTA-600B
The speakers could be better
Buttons and controls are not of the best quality
5. Fluance RT80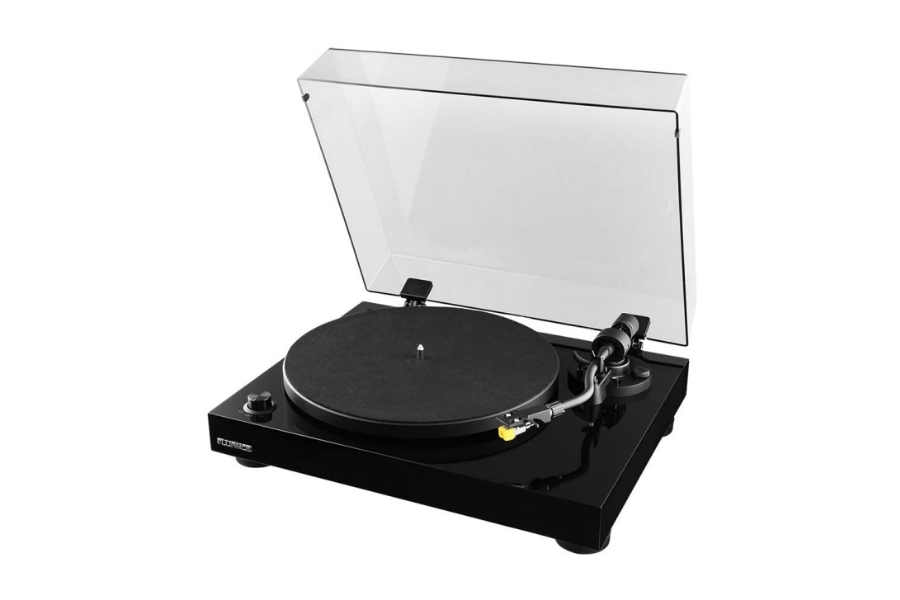 Fluance RT80 is a simple turntable that is made out of quality materials and has amazing components that provide high audio fidelity. This is the best turntable under $200 for the audiophile on a budget.
While the vinyl player has ditched all types of connectivity to provide the best quality sound, the product is considered one of the best players in this price range.
It comes with an S-Type tonearm constructed out of aluminum, that gives precision to create an immaculate analog audio output, just like in the original recording.
Pros of Fluance RT80
High-quality AT91 stylus
Made with premium components
Quality sound
Clear speakers
Cons of Fluance RT80
No input/output, Bluetooth options
No USB options
6. Numark PT01 USB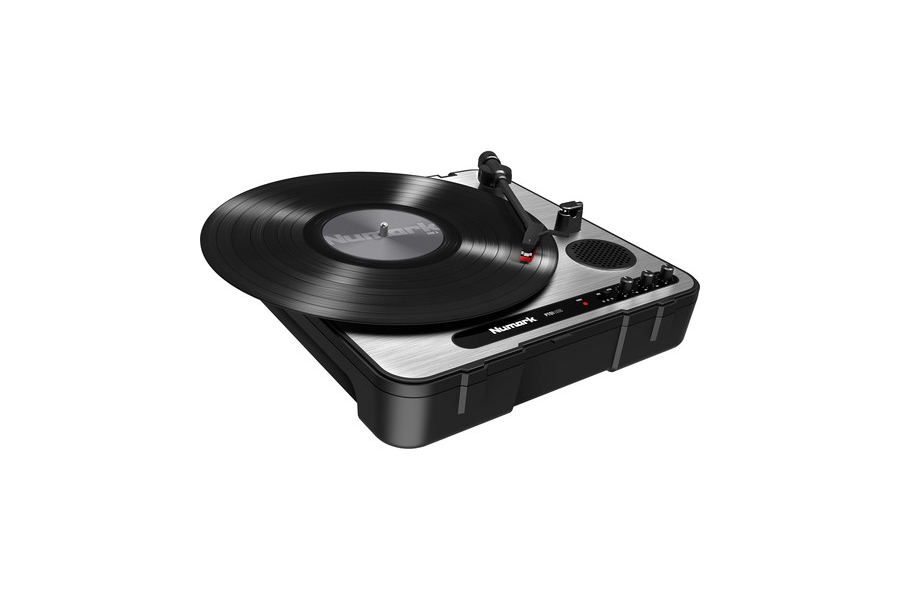 As many people are looking for turntables to archive old records into digital files, Numark PT01 comes with some great features that allow you to rip vinyl.
This player has been made for music producers in mind, enabling the process of sampling, which is taking segments of music from old tracks and using them in new songs. It can convert 45s, 78s, and 12-inch LP records.
You have to take into account that this product is not really built specifically for listening to music at home. However, it is the best turntable under $200 for ripping vinyl and turning it into digital files.
Pros of Numark PT01 USB
Inbuilt speaker with output to speakers or headphones
Portable
USB connection
Converts three speeds
Can work on batteries
Cons of Numark PT01 USB
Not the best for listening back to records
Inbuilt speaker is not of great quality
7. Stanton T52B DJ Turntable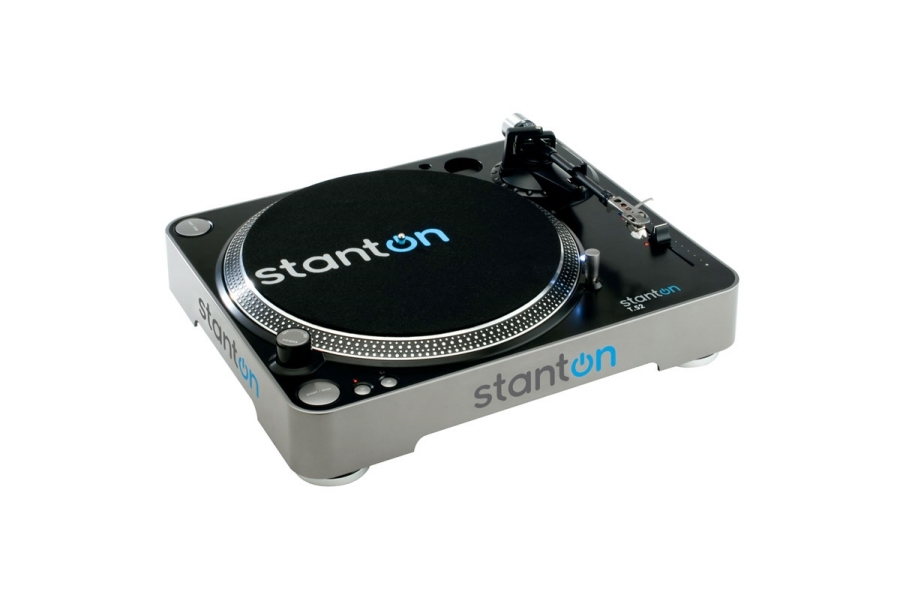 Stanton T52 was designed mostly for DJs, as the turntable plays vinyl records and nothing else. It does incorporate a number of features that are specifically for DJs, and it is made out of premium components.
With a powerful direct-drive motor and a straight tone arm, it has a consistent rotation speed and incredible accuracy tracking, which is perfect for scratching. You can play 7, 10, and 12-inch vinyl discs at speeds of 33 1/3 and 45 RPM, and it also has RCA outputs for connecting speakers.
The Stanton T52B DJ turntable has an inbuilt Stanton 300 cartridge and the first-class slipmat for better control. These features, paired with the high build quality, make this the best turntable under $200 for both beginner and professional DJs.
Pros of Stanton T52
Great for DJs
High-quality materials and build
Great sound quality
Affordable
Cons of Stanton T52
Not the greatest for playing records
No Bluetooth or USB slot
No headphone output
8. Sony PS-LX310BT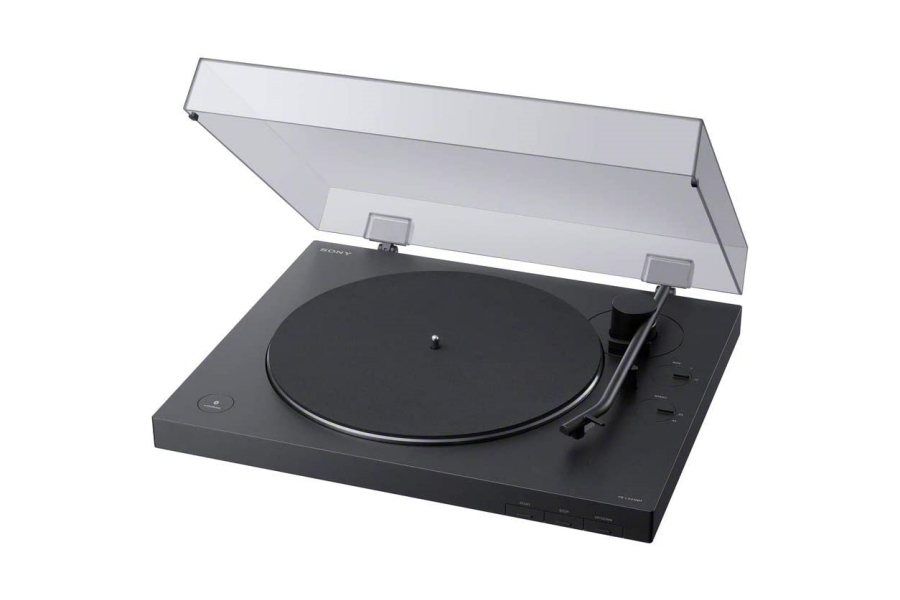 The Sony PS-LX310BT is an easy to use turntable, as it incorporates a fully automatic operation. You can switch from phono output and line out, and you also have a phono preamp and three gain settings. Through the USB output, you can rip vinyl into the MP3 format by using your software of choice.
In terms of connectivity options, the player can be connected to speakers, headphones, and other Bluetooth-enabled devices. There are also RCA outputs from which you can plug the turntable into a stereo system. Sony's turntable features high-fidelity audio and a pipe tonearm that provides a high tracking accuracy. This is the best turntable under $200 that a versatile player wants.
Pros of Sony PS-LX310BT
Bluetooth connection
High tracking accuracy
Anti-vibration mat
USB cable included
Cons of Sony PS-LX310BT
9. Teac TN-300SE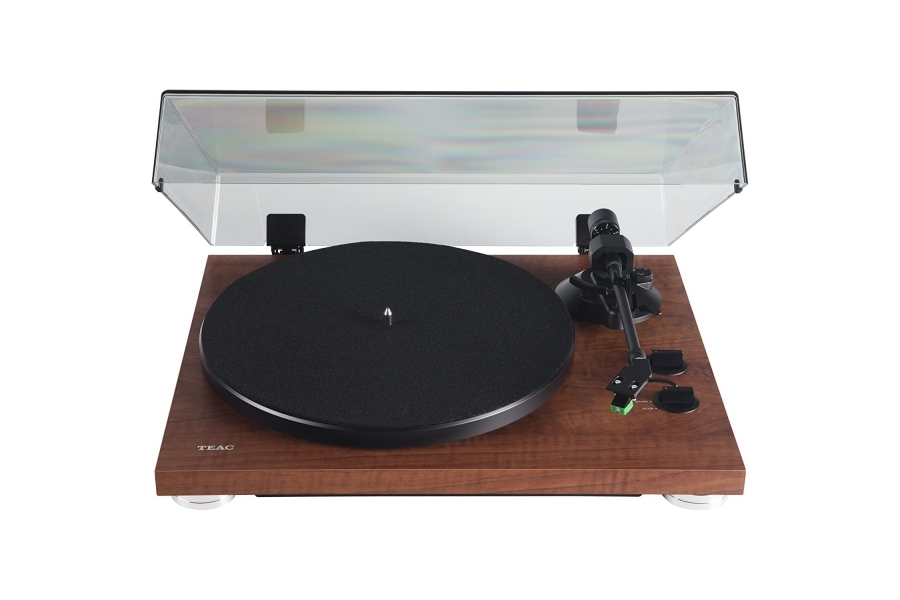 The Teac TN-300SE turntable impresses at first glance with its solid MDF casing, which removes most of the resonance when playing records.
It has both line and phono outputs, allowing you to connect to any audio system. Featuring an Audio Technica AT95SE cartridge and a Texas Instruments analog-to-digital converter for the USB output, this is a great entry-level analog vinyl player.
You can rip your favorite albums via the USB connection and store them in digital format. The tonearm delivers decent tracking accuracy, as it has an anti-skating mechanism, but there is no adjustable counterweight.
Pros of Teac TN-300SE
Semi-automatic playback
Heavy-duty platter
USB output
Phono equalizer preamp
Cons of Teac TN-300SE
10. 1byone Nostalgic Wooden Record Player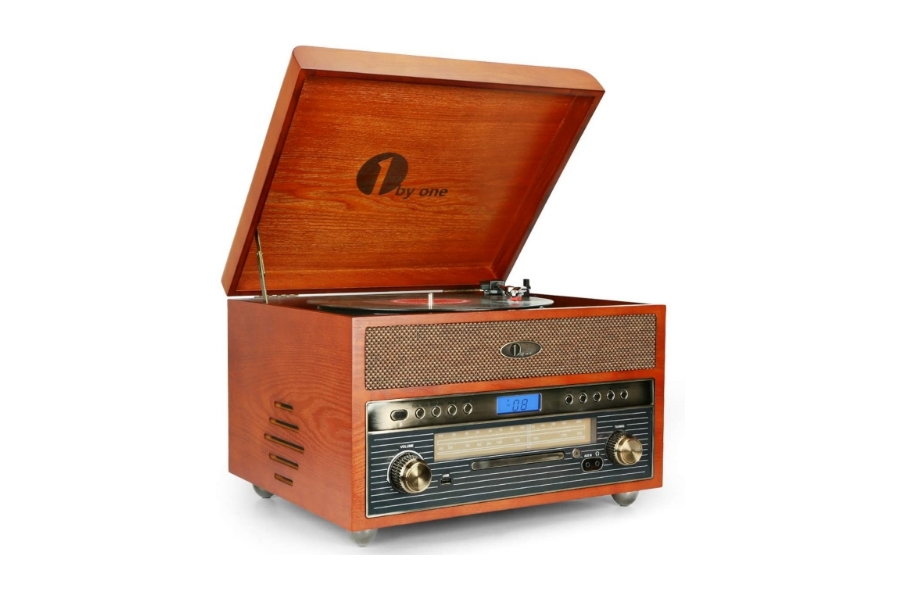 One of the most popular vinyl record players is the Nostalgic Wooden Turntable from 1byone. The retro design is the reason why this belt-driven player is such a success.
While it does have a classic look, it is packed with lots of modern features, making it the best turntable under $200 for those who love both vintage and technology. In addition to playing vinyl records, it also has a CD player, cassette player, AM/FM radio, Bluetooth capability, and USB port for connecting to modern-day devices.
Having a belt-driven motor, there is less noise distortion and, thus, better sound quality. You can play all standard sizes records, be they 7, 10, or 12″. The turntable works at speeds of 331/3, 45, and 78 RPM.
Pros of Nostalgic Wooden Turntable
Portable
Durable build
Plays vinyl record, CDs, cassettes, AM/FM radio
Bluetooth and USB connection
Plays at 3 speeds and all standard sizes
Classic vintage design
Cons of Nostalgic Wooden Turntable
No Bluetooth connection for external speakers
Conclusion
Whether you like classic-looking players or more modern turntables with many features, there are plenty of options for an audiophile on a budget. We hope that our list will be helpful in your search for the best turntable under $200. Also, if you are interested in other types of high-quality sound devices, you can take a look at our article with the best soundbars for your home.
Featured image: techradar.com