Best Undercounter Refrigerators in 2020
In the following best undercounter refrigerators article, the Safebuys.com team picked the most quality undercounter refrigerators from the world's top brands.  The undercounter refrigerator is designed to be a practical and aesthetically pleasing addition to your kitchen when you are short of space for a full-sized refrigerator. However, finding the right undercounter refrigerator with the ideal […]
In the following best undercounter refrigerators article, the Safebuys.com team picked the most quality undercounter refrigerators from the world's top brands. 
The undercounter refrigerator is designed to be a practical and aesthetically pleasing addition to your kitchen when you are short of space for a full-sized refrigerator. However, finding the right undercounter refrigerator with the ideal interior and exterior can be draining. People who want an undercounter refrigerator do not just want something to hold their food, but also something that adds flavor to the tiny space.
Here you will find some of the best undercounter refrigerators in no particular order, a complete buyer's guide with the pros and cons of each.
1. SABA 27-inch Undercounter Refrigerator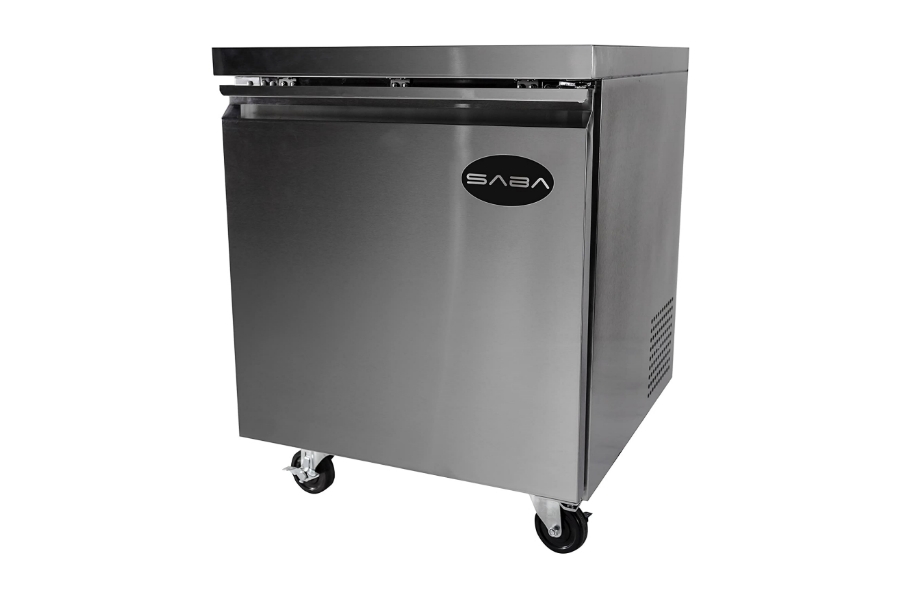 The SABA 27-inch undercounter refrigerator is an affordable and genuinely versatile option for your space. This refrigerator is just perfect for minimal consumption. It comes with smooth wheels attached for easy transportation around your space. For sure, this is excellent value for your money; there is no reason to deny that.
It is small and compactly designed. It comes with sufficient capacity to store plenty of food and drinks, enough for two or more people. While it might not be visually appealing, it is, without a doubt, an engineer for perfection. It excels in energy efficiency and comes certified eco-friendly. The self-closing doors and four-wheels are a huge benefit, especially if you are trying not to move from your position.
Furthermore, every inch of this refrigerator is easily accessible when it is time for cleaning. The fridge is made of stainless steel, which means low maintenance. The cooling system comes with a temperature adjustment mechanism that allows you to customize how cool you want things. In a nutshell, the SABA 27-inch model has everything you will need from the best undercounter refrigerator.
Pros of SABA 27-inch
The item is temperature adjustable
It utilizes energy-efficiency technology
Cons of SABA 27-inch
2. Avallon AFR241SSRH Undercounter Refrigerator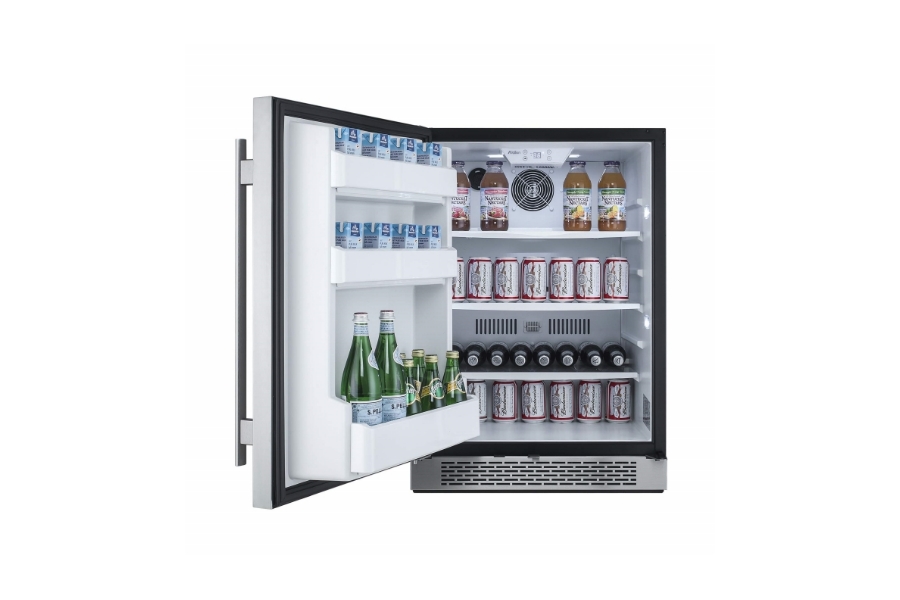 The Avallon 24-inch undercounter refrigerator is designed using cutting edge technology. It is among the quietest refrigerators in the market and is perfect for bedrooms, offices, and kitchens. The Avallon 24-inch refrigerator comes with three sanded glass shelves and extra door storage for a large bottle and juice boxes.
This unit does not just look good; it keeps everything safe with a true-key lock. You can use the temperature adjustment system to control the environment inside the refrigerator. The door of the fridge is left-hinged to make it easy for left-handed people to use it. There is also a right-hinged version for right-handed people.
The stainless steel finish means you would not have to worry about maintenance and cleanliness. It is effortless to use, simply plug it into the wall to enjoy this modern yet functional fridge. All in all, the Avallon 24-inch unit is one of the best undercounter refrigerators.
Pros of Avallon AFR241SSRH
It is eco-friendly and energy-efficient
You can customize the lighting, depending on your needs
It comes with a high-quality carbon filter
Cons of Avallon AFR241SSRH
The flooring installation is tricky
3. Midea WHS-65LSS1 Undercounter Refrigerator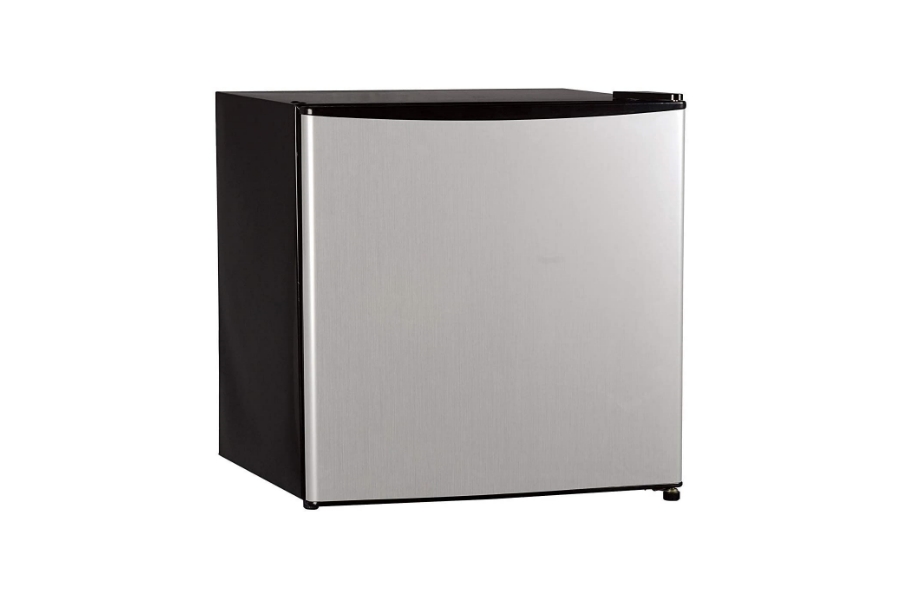 Midea is known for producing high-quality machines, and the WHS-65LSS1 undercounter refrigerator is an accurate reflection of the company's reputation. This simple-looking refrigerator does an impressive job at storing drinks. It is a beverage center perfect for your office, kitchen, and, most importantly, your game room.
The refrigerator comes with a versatile look that allows it to blend seamlessly with any environment. The unit has an adjustable leg, which will enable you to mess around with its height to meet your preference. It has a spacious rack that allows you to store a decent amount of drinks, with the extra door storage reserved for plentiful beverages, such as wine. More precisely, the Midea WHS-65LSS1 comes with around 1.6 cubic feet of space.
The fridge is also perfect for storing small items like medicine that needs to be cooled, cosmetics, and small food items.
Pros of Midea WHS-65LSS1
It features a stainless steel finish
The legs are adjustable for height
It keeps the food taste intact
Cons of Midea WHS-65LSS1
The design is a little boring
4. Midea WHD-113FSS1 Double Door Undercounter Refrigerator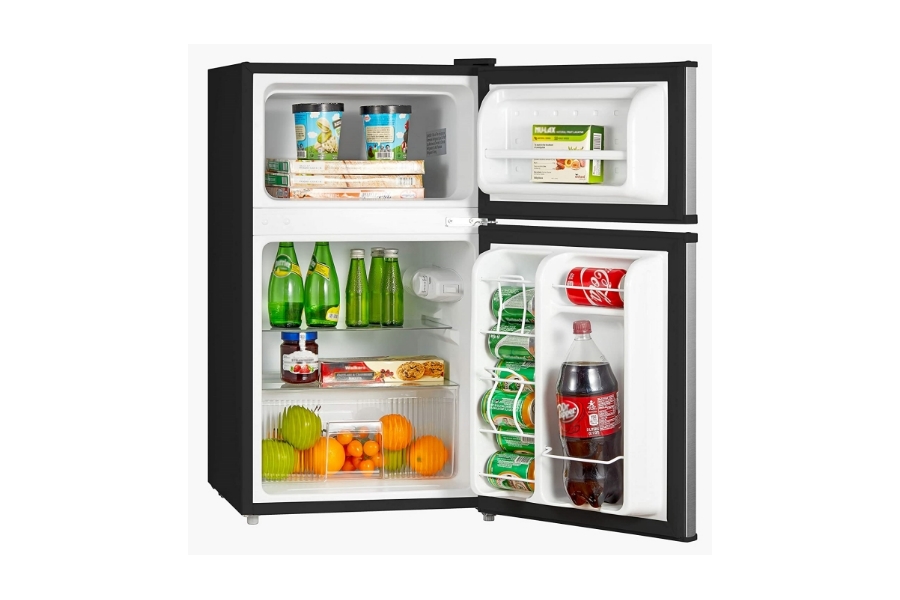 Your kitchen, office, or even bedroom might not be in the ideal state to accommodate a full-size fridge, but it does not mean you cannot enjoy similar luxury at a compact size. The Midea double-door WHD-113FSS1 undercounter refrigerator brings the features of full-sized refrigerators in a convenient size.
This unit is beautifully designed with a full-functioning exterior and interior. It looks like a full-sized refrigerator, the capacity making the only difference. If you are someone who wants to keep food separate from your drinks, this may be the best option for you. Besides, this Midea refrigerator comes with reversible doors, which means you can either open it from the left or right side.
This product, complete with the stainless steel finish, will be an excellent addition for your space. Besides, it is designed to look good as a standalone in the corner of your room. However, the space inside is partitioned by the glass, which can easily break. It comes with a year's worth of warranty for any kind of problem related to the unit.
Pros of Midea WHD-113FSS1
It allows you to keep things arranged
The unit is well lit
It comes with multiple color options
Cons of Midea WHD-113FSS1
The shelves are made from glass and easy to break
5. Avallon ABR241SGRH Undercounter Refrigerator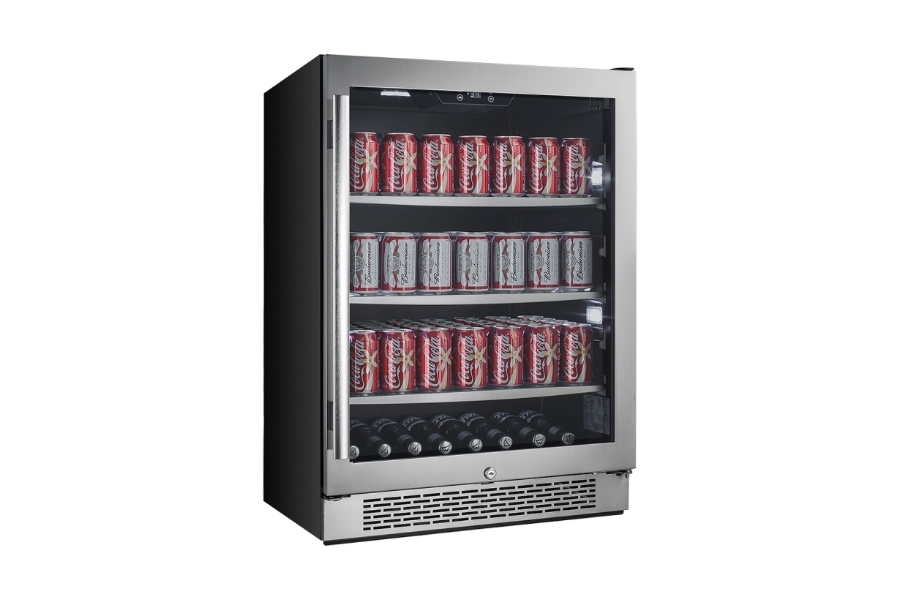 This unit is designed to be in a man-cave. The Avallon ABR241SGRH has a distinct appearance compared to the units we have reviewed so far. This products is perfect for anyone who wants a good place to store some drinks and leftovers from dinner. It is a modern and highly functional undercounter refrigerator.
Moreover, it is ideal for a kitchen, office, dorm, and the man cave. You can also use this Avallon refrigerator for commercial purposes, to store drinks in cans and large bottles. It is an excellent product with a sleek and smart design. The shelves are adjustable to allow you to configure the shelves to meet your preferences.
The touch control panel allows you to adjust the temperature to keep everything in its ideal form. The true-key lock will enable you to keep your drinks safe. There are also two lights on each side of the fridge to illuminate everything distinctively to add context to your space and guide when you are sneaking in for a drink. The Avallon ABR241SGRH is genuinely one of the best undercounter refrigerators for 2020.
Pros of Avallon ABR241SGRH
The fridge comes with LED lights
It has a carbon filter
Cons of Avallon ABR241SGRH
Maintaining the refrigerator is quite a hassle
6. Koldfront TWR187ESS Undercounter Refrigerator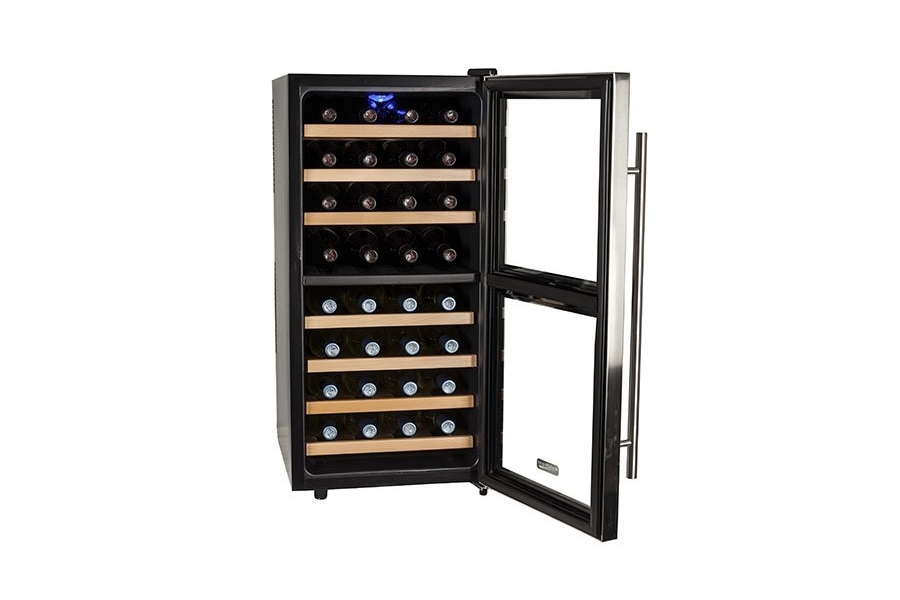 The modern, classy Koldfront TWR187ESS undercounter refrigerator is an elegant unit that looks good as a standalone fridge. It has a lot of features and storage for a decent number of bottles. With this unit, you can enjoy your favorite labels from the kitchen, bedroom, dorm, even the office. But this Koldfront refrigerator is an absolute must-have for your game room or man cave. 
The Koldfront is definitely on the list of the best undercounter refrigerators for 2020, as it is a modern-looking yet functional refrigerator. Apart from that, it features a sleek and smart design and comes with energy-efficient technology, which is perfect if you are looking for something that would go easy on the electricity bill.
It comes with enough shelves to cool multiple bottles of a drink. At first glance, the Koldfront refrigerator looks small, but the capacity is quite impressive. There is an LCD screen containing temperature information in the front. Moreover, it can also be an excellent addition to a bar or small hotel.
Pros of Koldfront TWR187ESS
It comes with adjustable shelves
The temperature can be adjusted
Cons of Koldfront TWR187ESS
The unit is free-standing
7. RCA RFR835 – Two Door Under Counter Fridge and Freezer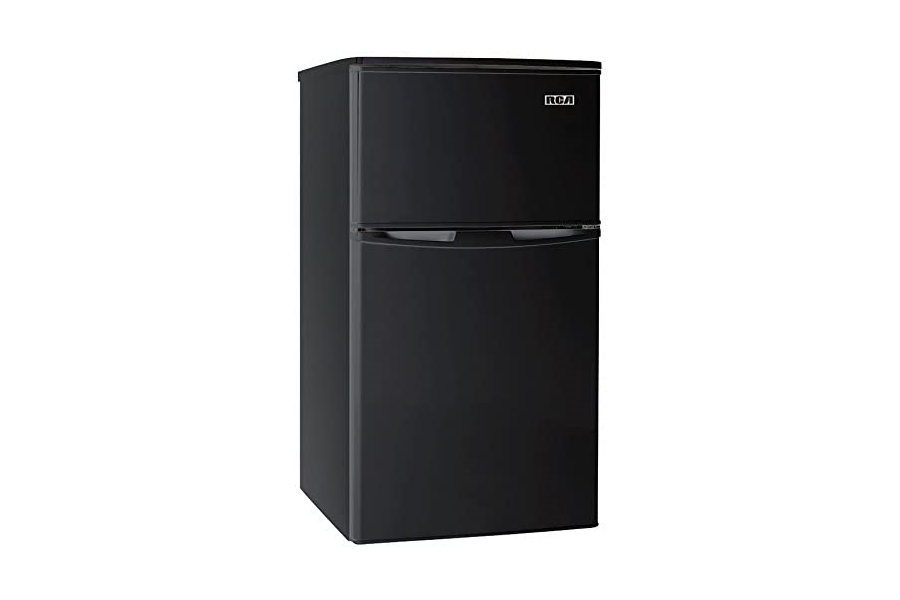 Here is another double door undercounter refrigerator which is perfect for your space. The RCA RFR835 refrigerator is something that most people will love. This unit features a simple design, which is an aesthetic that some people will appreciate. The black color is just perfect and can add contrast to your space. The interior of this unit is a lot like the full-sized refrigerator and less like a beverage cooler.
If you do not like it in black, you can choose from the two other color options. Besides, the two-door design means there is plenty of room for both drinks and food. The temperature inside the unit can be adjusted to what suits you best.
The cherry on the top here is the in-built dispenser and dedicated space for two-liter bottles inside the refrigerator. RCA utilized the latest technology in this unit to perform exceptionally when it comes to temperature control. One thing is for sure; this RCA undercounter refrigerator is the best to buy. 
Pros of RCA RFR835
The body resists scratches
It comes with an in-built dispenser
Cons of RCA RFR835
The refrigerator is noisy
8. Danby DAR044A6DDB Compact All Refrigerator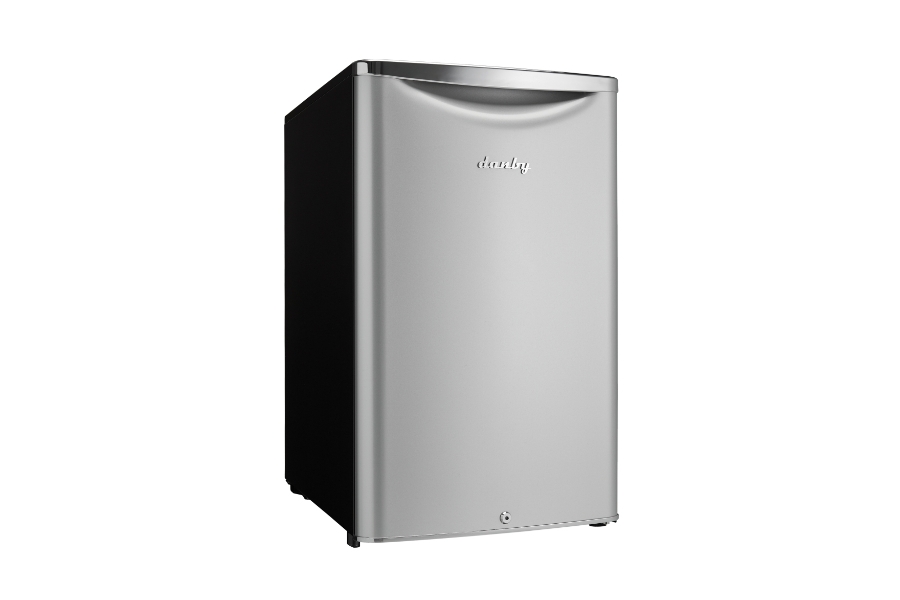 The Danby compact unit takes inspiration from simplicity and styling trends. This unit reimagines the conventional refrigerator design. It is undoubtedly designed for the modern consumer, as it comes with a metallic finish, a chrome handle, and a curved door featuring a chrome workout. This exterior is a class apart from your typical refrigerator, for sure.
You are right to consider this unit the best undercounter refrigerator for 2020 in terms of aesthetics and functionality. You can get the Danby refrigerator in a wide range of sizes to suit your preference and space. There are two shelves inside to store your drinks and food items. Unfortunately, the partition is made of glass, which is easily breakable.
This unit is perfect for storing a large water bottle. It comes with at least 96 liters of cooling and storage capacity. This is a classic and elegant unit and can make an excellent addition to your living space. For sure, the design is versatile, and the refrigerator can be used for a range of purposes.
Pros of Danby DAR044A6DDB
It consists of scratch-resistant material
This item comes with a carbon filter
It features energy-efficient technology
Cons of Danby DAR044A6DDB
The shelves are made from glass
9. Danby DAR017A2BDD Undercounter Refrigerator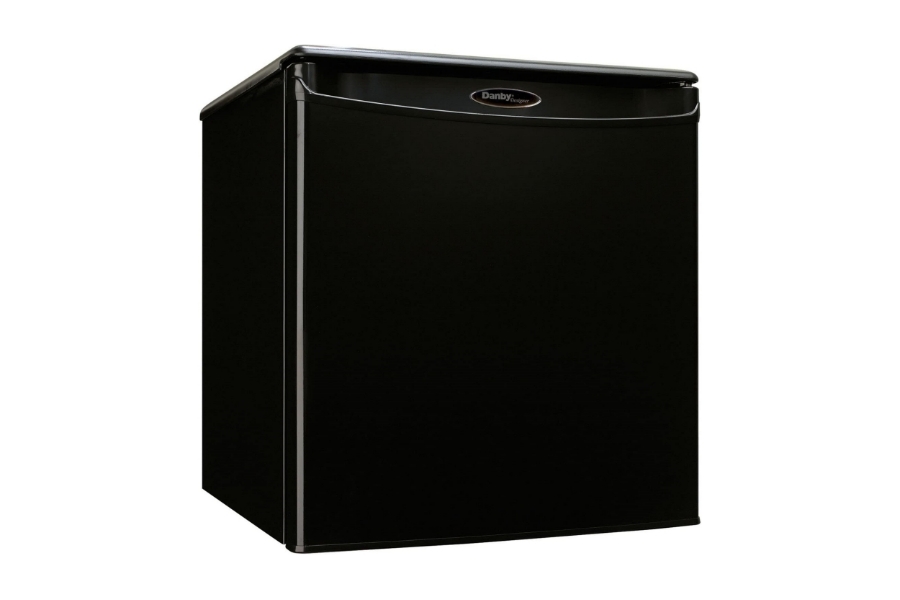 Still, on the Danby line of undercounter refrigerators, this undercounter unit is a sure win like its counterpart. This classy unit features an elegant design with its black exterior, with a scratch-free worktop. This mix of color and design make it perfect for the office setting.
The unit could pack more bottles in its compact design than you can imagine. The features are amazing, and it is in line with energy efficiency standards. Apart from being eco-friendly, this Danby undercounter refrigerator keeps food and drinks pretty chill and fresh. With this addition to your space, you can confidently serve your guests and clients a fresh and cool drink.
The refrigerator's interior features wire shelves that allow you to store plenty inside. The cooling system is mechanical and easy to use. Unfortunately, something needs to be done about the noise that comes when the unit is running. However, there is no cause for alarm. This Danby undercounter refrigerator is worthy of your consideration.
Pros of Danby DAR017A2BDD
It comes in a variety of colors
Easy to maintain
It features eco-friendly technology
Cons of Danby DAR017A2BDD
It produces a noise when it runs
10. EdgeStar CBR1501SLD Beverage Cooler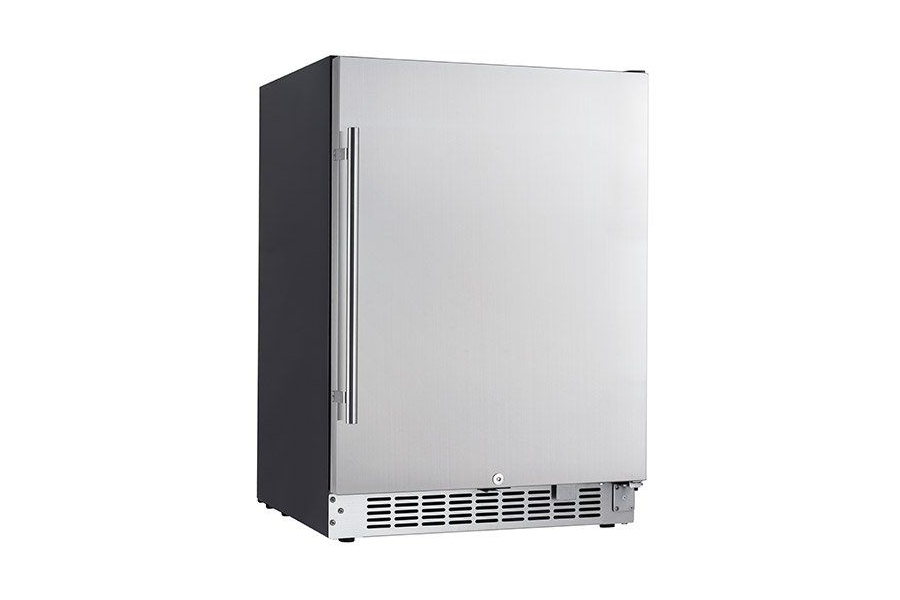 You can store as many drinks as you want into this stainless steel beverage cooling machine. The EdgeStar undercounter refrigerator is a beverage center. It is perfect for game rooms and man caves. It can also be an excellent addition to your kitchen and office space. This undercounter refrigerator will give you a much-needed break from running to the kitchen for your next drink.
This unit works like you would expect the full-size kitchen refrigerator to function. Moreover, the built-in carbon filter ensures the refrigerator is safe from any form of contamination. It also comes with a digital temperature control system that allows you to customize the interior environment to chill your drinks to your liking.
By all means, this EdgeStar refrigerator is a blessing and a must-have for anyone who likes to have a good time. It also works well as a standalone, considering the size and unit design. Besides, the doors to this unit can be open from either side, so you are not limited. This EdgeStar unit is truly one of the best undercounter refrigerators you can buy in 2020 for your space.
Pros of EdgeStar CBR1501SLD
It is ETL approved
The setup is easy
The compressor is durable and sturdy
You can open the door on both sides
Cons of EdgeStar CBR1501SLD
The glass shelves are hard to maintain
Conclusion
If you are looking to replace your old model or buy a new one, you are welcome to this list of the best undercounter refrigerators in the market. Like you, more people are opting for undercounter refrigerators because they save space and save energy, cost, and enhance the look and feel of your space.
Featured image: lines4all.weebly.com