MPOW 059 Bluetooth Headphones Review
If you are looking for a headphone set that will fit your ears firmly and lack any bothersome wires, then you should check out the MPOW059 Bluetooth headphones. Our MPOW 059 review will analyze the features this product has to offer and will help you evaluate if it best for you. These amazing Bluetooth headphones […]
If you are looking for a headphone set that will fit your ears firmly and lack any bothersome wires, then you should check out the MPOW059 Bluetooth headphones. Our MPOW 059 review will analyze the features this product has to offer and will help you evaluate if it best for you. These amazing Bluetooth headphones are made by MPOW, one of the fastest growing headphones companies in 2020.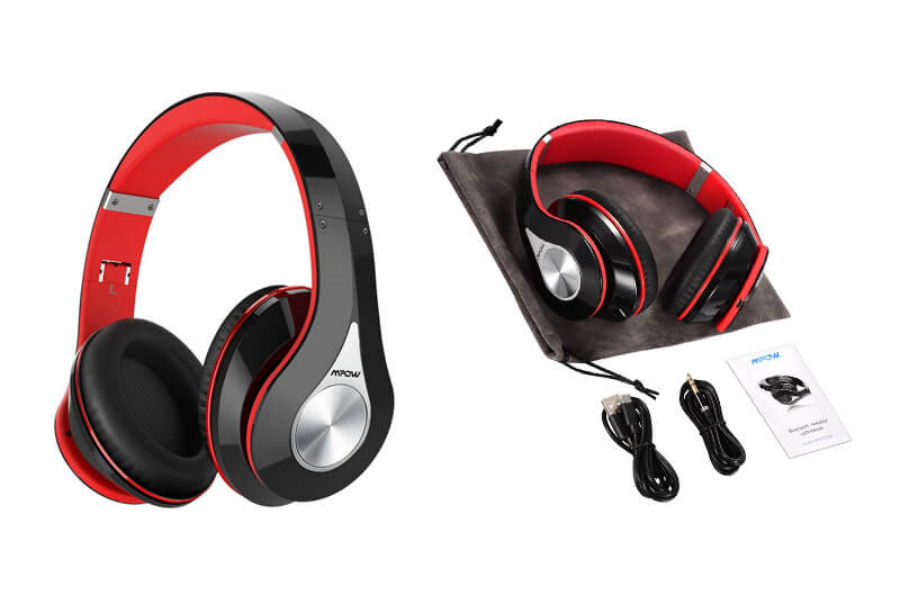 Wireless headphones with Bluetooth connection can be connected to various devices, and they allow you to conveniently listen to music, podcasts, and movies.
These MPOW  059 headphones can be used via Bluetooth connection while you are on the go, or you are sitting at home at your PC or laptop. The battery also lasts very long, but more on that later in our MPOW 059 review.
MPOW 059 Review: Features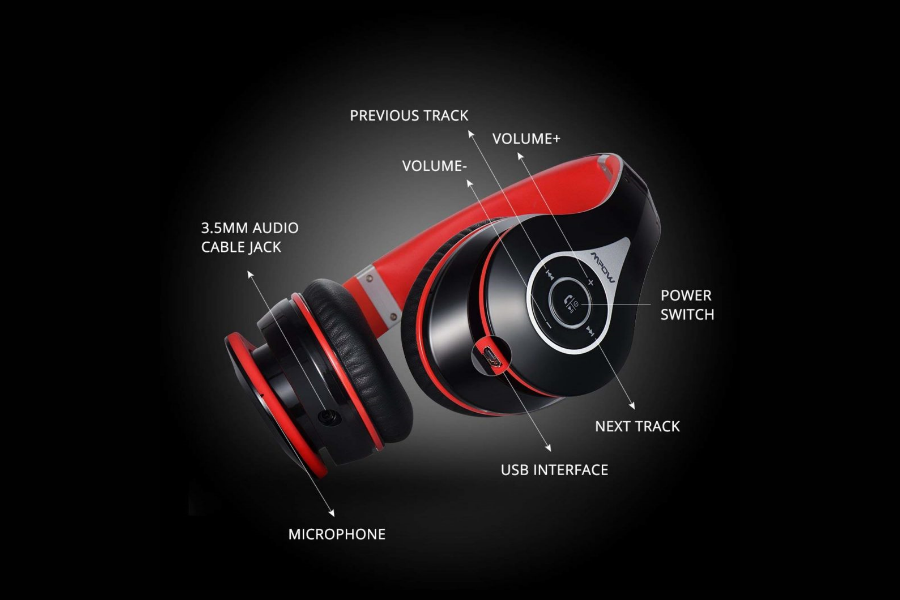 Battery Life
MPOW 059 has a very impressive battery life, which lasts around 12 hours, with a talking time of 15 hours and playback time of 13 hours.
Bluetooth Range
The Bluetooth connectivity has a range of 33 feet, allowing you to connect wireless to any mobile devices, tablets, TVs, and other Bluetooth devices.
Sound Quality
The MPOW 059 Bluetooth headphones have a very good sound quality, with decent bass and mid-range accuracy. Moreover, there is a good treble range performance. While they passively isolate noise through their padding, the noise does not cancel out completely. Exterior noises are filtered out partially without compromising the quality of the sound.
Design and Build Quality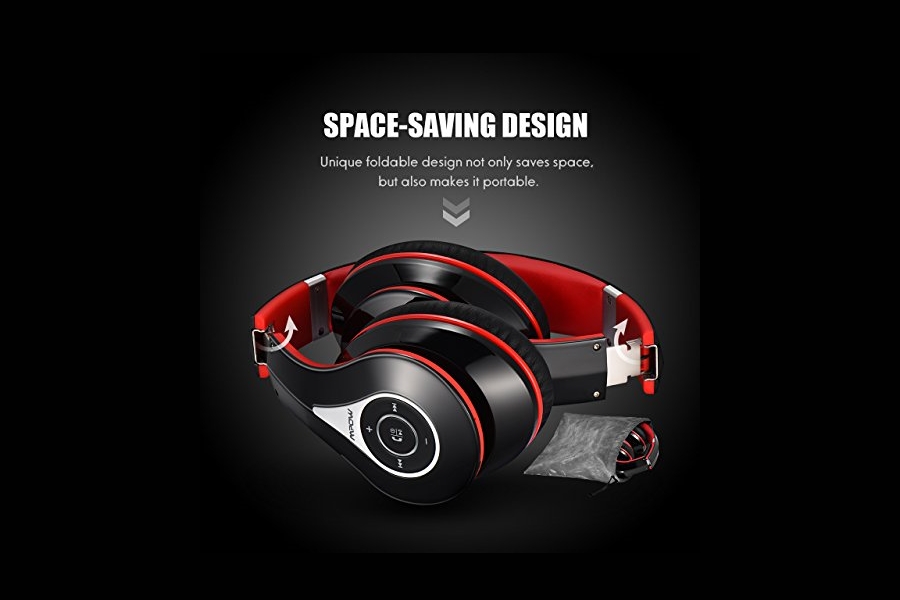 The MPOW 059 Bluetooth headphones have a minimalistic look. Even if they have a decent build quality, there isn't any cheap and plasticky feel to it. While most of the headphones consists out of plastic, the vital parts are reinforced with a metal frame. The plastic headband and ear cups do not seem very resistant to physical stress and might crack in time.
The headphones can be folded and neatly tucked away, with the folding arms being made out of steel to withstand wear and tear. The headset is also rotatable.
The top padding and ear pads are constructed out of leather to allow for a comfortable listening experience. As the pads are rather large, they enable passive noise cancellation that can drown out some of the outdoor noises.
It should be mentioned that these headphones aren't waterproof resistant. Even if they might withstand a light rain without any issues, you probably shouldn't take a shower with them. As they are not resistant to water, they are probably not sweat resistant as well.
An advantage of the MPOW 059 Bluetooth headphones is their lightweight. Having only 11 oz, you won't feel them on your head even after wearing them for a long time. Moreover, you can carry them around with no strain.
Microphone
The headphones come with a mic that can only be used via Bluetooth. The Bluetooth connection may affect the audio quality, as there are sometimes delays.
Comfort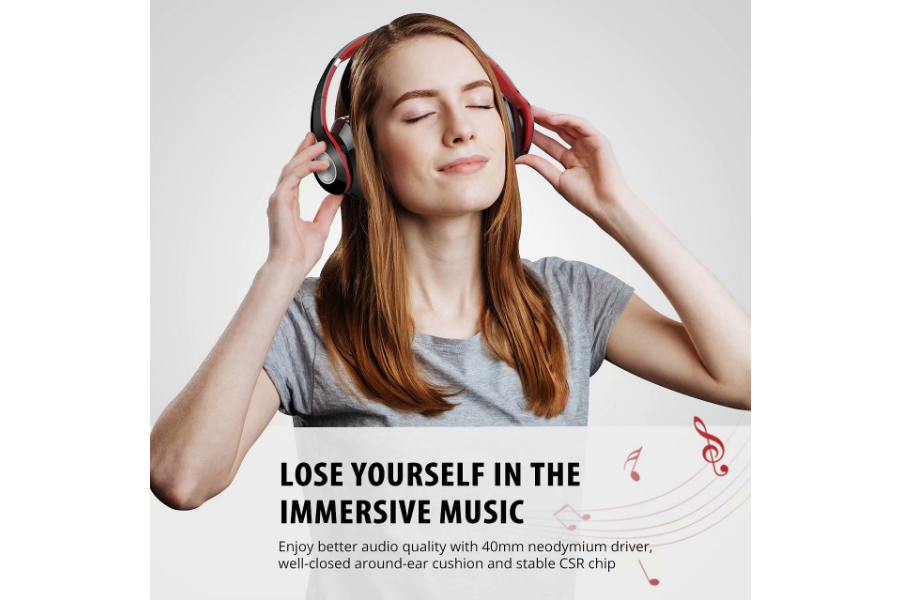 The MPOW 059 Bluetooth headphones have a comfortable over-ear fit due to the well-padded cups and the headband that sits firmly on your head. However, these headphones are not the best option if you want to do for sports activities, as they have a tendency to slide off when you make sudden movements.
Controls
The control scheme of the MPOW 059 is above average, featuring all basic functions that you might require on headphones, such as track skipping, call/music, and volume controls. The lay out of the buttons is also handy, with the buttons being set on the right ear cup for easy use.
MPOW 059 Review: Final Verdict
As we have reached the end of our MPOW 059 review, we can conclude that these are good headphones that offer both Bluetooth and wire connectivity, and while their construction is not top-grade, the headphones do their job considering their price range.
Pros of MPOW 059
Clear sound;   
Comfortable padding;
Very impressive battery life;
Has Bluetooth and wire connectivity;
Good control scheme;
Cons of MPOW 059
Lacks complete noise isolation;
Cheap build quality;
Audio delay in mic.