VIZIO SB4051-D5 Soundbar System Review
In today's VIZIO SB4051-D5 review, we will look into the built-in features and performance of this soundbar and help you determine if you should purchase this product. VIZIO has produced many soundbars and speaker systems that allow people to enhance their displays and turn them into mini home theatres. VIZIO SB4051-D5 Design and Build The […]
In today's VIZIO SB4051-D5 review, we will look into the built-in features and performance of this soundbar and help you determine if you should purchase this product. VIZIO has produced many soundbars and speaker systems that allow people to enhance their displays and turn them into mini home theatres.
VIZIO SB4051-D5 Design and Build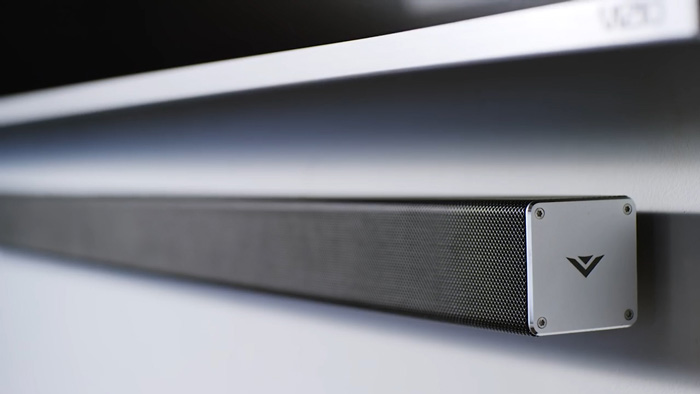 The VIZIO system features 4 separate speakers, with a 40" wide soundbar, a slim subwoofer, and two rear satellite speakers.
The soundbar has in-built the front left, front right, and center channel speaker arrays. The long-shaped bar is covered in black, metal mesh with plastic end-caps that give it a brushed aluminum feel. The power buttons, input selection, Bluetooth pairing, and volume up/down are also featured on top of this soundbar.
The subwoofer is thin enough to be hidden underneath a couch. Moreover, you can put it standing behind any piece of furniture. Underneath a plastic cover on the bottom, the subwoofer has a hidden 8-inch down-firing driver.
The remote has a small LED display, from where you can switch between speakers or adjust surround volume, bass, treble, and center channel level.
As you can see from our VIZIO SB4051-D5 review, the new sleek and compact design of this soundbar and its wireless subwoofer is convenient for any type of room décor.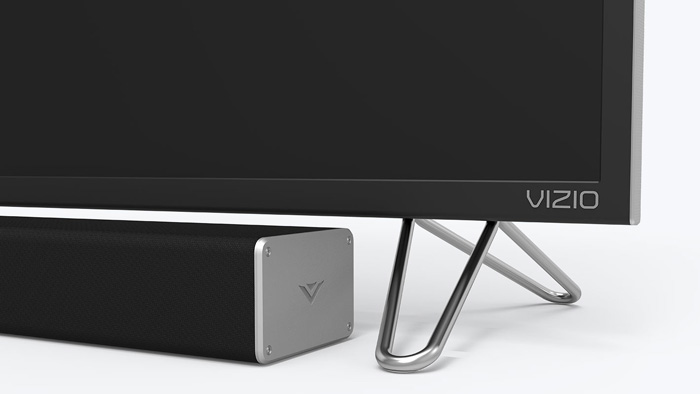 VIZIO SB4051-D5 Review: Features
Dolby Digital and DTS Pairing
The SB4551-D5 includes decoding for Dolby Digital and DTS Studio Sound, as well as DTS TruSurround and DTS TruVolume. Thus, you can enjoy true system surround sounds. All your movies will now have a really immersive 5.1 surround sound, which can go up to 101 dB1.
SmartCast System
The SmartCast system has been introduced in all new soundbars and smart speakers. SmartCast is like an amplified version of Google Cast with additional features for VIZIO systems.
By downloading the VIZIO SmartCast app2, you can use your mobile device as a universal remote control and can stream music from various apps without any issues.
The system also has inbuilt Google Cast, so you can browse more than 100 audio apps and cast your favorite tunes.
Connectivity
In terms of connectivity options, the SB4551-D5 has 2 HDMI ports (in and out), coaxial and optical digital, 3.5mm analog, and USB. You can also connect and stream apps from your phone by using Bluetooth and 802.11n wireless connections. The soundbar features an Ethernet port, but upon setup, the system will ask you to connect through Wi-Fi instead.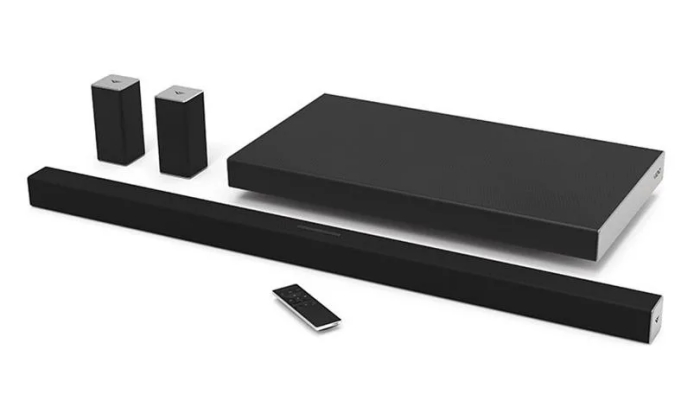 Performance
In the last part of our VIZIO SB4051-D5 review, we will be examining if the sound quality and performance are still worth the price. Sometimes, a manufacturer decides to make its sound system smaller, as they have less space and must compromise on certain parts.
But with the SB4551, it seems that details are crisper and have a better definition at the top of the sound when compared to its precursor.
Dialogue and other fine details in the midrange are also quite well-defined. As a result, you will have no trouble understanding movies even at lower volumes. With less than 1% of harmonic distortion, the quality sound of this soundbar stands out when you are watching your favorite movies or music.
The satellite speakers work well and deliver great sounds. When you connect them to soundbar, they boost the atmosphere of whatever content you are watching. The bass from the subwoofer has a rich and defined sound, which will make a visceral experience during dramatic moments.
VIZIO SB4051-D5 Pros and Cons 
Pros of VIZIO SB4051-D5
Lightweight
Sleek design
Compact subwoofer
Rich bass and sound quality
Dolby Digital and DTS Studio Sound
Wireless and Bluetooth
Cons of VIZIO SB4051-D5
Conclusion
From our complete VIZIO SB4051-D5 review, we can say that this soundbar and subwoofer system would make a great addition to any home cinema system. You just have to enjoy the sound quality and take a break listening to your favorite music.
Featured image: bhphotovideo.com